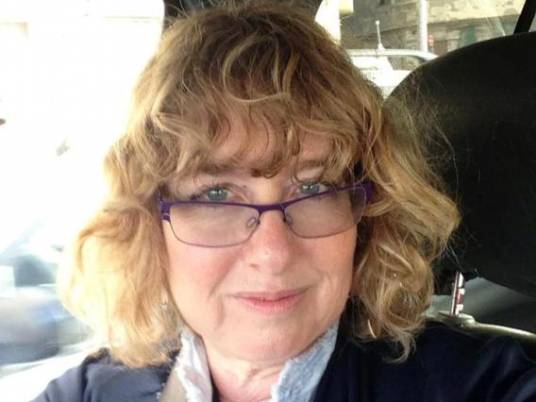 Egypt mourns the passing away of Mindy Baha el Din, one of Egypt's most dedicated environmental activists, conservationists and bird specialists. She suffered a stroke on Thursday night and passed away early this morning at Dar el Fouad hospital in 6 of October.
Originally from the US, Mindy married fellow conservationist Sherif Baha el Din and spent most of her adult life in Egypt, where she struggled against the myriad of environmental violations Egypt has experienced and still struggles with every day. Mindy was an Egyptian national, was deeply in love with this country and refused to see it spoiled and destroyed by greedy development projects and visionless governmental policies.
When I first met Mindy, I had just started as the environment editor at Egypt Independent. We were neighbors, and I spent countless hours on the balcony of Mindy and Sherif's Dokki flat, discussing all aspects of Egypt's environmental troubles. I had little experience, and was unsure who do talk with, but Mindy and her husband showed incredible patience and dedication. A hot tea in hand, they expanded my horizons and shared in an incredibly generous way their knowledge, stemming from decades of experience.
I have said it before but I want to say it loud today: Mindy has always been the biggest supporter of the section, she constantly reassured me when I would lose track in the midst of constant political violence, when I did not see the point of writing about environmental violations.
Her energy was contagious; always hooked on her laptop, on Facebook or Twitter, every day she would share a dozen stories, in Arabic and English, about endangered migratory birds, new destructive development projects or emerging grassroots campaigns.
She was a key member of Nature Conservation Egypt, one of Egypt's most active and reliable environmental NGOs, organizing conferences and initiating discussions about topics that absolutely no one was tackling in Egypt. She was Egypt Independent's environment section's most dependable source, and she contributed a story entitled "Supporting Egypt's wetlands and waterbirds through regional cooperation."
The last talk she gave just last week in Alexandria was entitled "Developing Eco-Labelling for Bird Friendly Hotels," part of which she presented in Arabic, a personal accomplishment I know she was very proud of.
Mindy was also a wonderful mother to her two daughters, Laila and Yasmine, and taught them her passion for the outdoors, for travel and for strange animals. Mindy's legacy will live on in Egypt with her family and with countless others influenced by her work and her dedication.