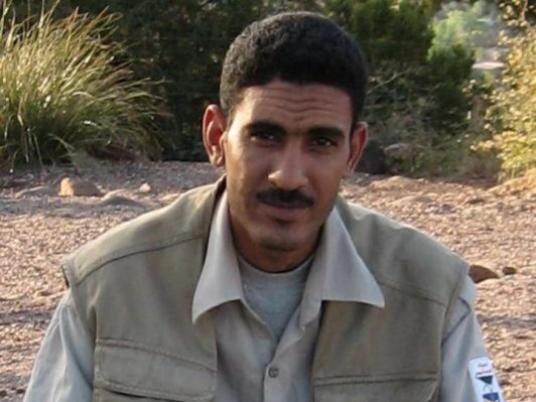 Egyptian conservationist Usama Ghazali earlier this month was declared the runner-up for the 2012 International Young Conservationist Award, which is annually given by the International Ranger Federation and the International Union for the Conservation of Nature.
Ghazali, 32, is originally from Qena and graduated from South Valley University's faculty of science in 2000, specializing in plant conservation. He has since dedicated his life to preserving Egypt's national parks, particularly Gebel Elba, where he has been a head ranger for more than 10 years.
Gebel Elba, located on the southeastern border with Sudan, is a mountainous region with an area of about 35,500 square kilometers, about 4 percent of Egypt's total size. Ghazali said the area is also home to more than 23 rare mammal species, including gazelles, and more than 500 plant species.
Ghazali was chosen as runner-up for his work in preserving many of these species, providing comprehensive training of an international standard to new rangers, and being a main contributor to the first extensive study of the endangered dragon tree done in North Africa.
Elisangela Sales dos Santos, a park guard with the Amazon Conservation Team in Brazil, was this year's winner. But save for the certificate itself, the same privileges are afforded both the winner and the runner-up.
Although no direct financial support is offered to the winners, the new status offers Egypt's rangers and conservationists the opportunity to become members of the International Ranger Federation and the World Commission on Protected Areas, administered by the International Union for the Conservation of Nature.
"Egyptian rangers and conservationists will now have access to professional counsel and training from the international community," said Ghazali. "This status also puts Gebel Elba [and all of Egypt's protectorates] on the international map, which will lead to improved financial support in the future to develop Egypt's parks."
The new status comes at the right time. Over the past decade, and particularly since the revolution began early last year, many of Egypt's national parks — such as Ras Mohamed in Sinai — have been reported to be in a state of decline, with overfishing, polluting and poor management of plant species.
Ghazali is collaborating with others to put an end to the situation, and international advocacy through the new award might help.
He said Egypt's national parks suffer from bureaucratic entanglement, with too many conflicting institutions interfering with park management.
"National parks are officially listed as being under the management of the Environment Ministry," said Ghazali. "But the Tourism Ministry, Education Ministry, the police and several others all have their hands in there too, making it impossible to make the right decisions and carry out the right orders that ensure the proper conservation of the parks."
He points out that funding for the parks, intended to come in part through entrance fees, is taken by the government and usually never seen again.
"The entrance fee money needs to be directly reinvested into the parks," he said.
Ghazali added that complicated management divisions also negatively affect Egypt's park rangers, whose responsibilities become confused while those involved remain in a never-ending state of managerial conflict.
"They're trained to take care of the parks, but their identity, respect and authority remains weak because it can be overridden by any official at any time," he said.
To counter this, Ghazali's main goal is to form an independent body to manage Egypt's national parks, as well as form an Egyptian rangers association.
"We need central management that primarily focuses on the conservation of the parks," he said. "All interested parties will then be required to negotiate their specific interests with this authority. "
Ghazali also adds that Egypt's park rangers will be given comprehensive training — sometimes by Ghazali himself — and chief authority in the parks.
"If their authority needs to be overridden, then one must also go through the independent authority," he said.
Ghazali concluded by pointing out that Egypt is also losing significant amounts of money in ecotourism through the mismanagement of the parks; different agencies have different ideas and projects regarding park development, but no one is willing to collaborate or seek consensus.
"Money is being lost while everyone is pushing for more from different angles," he said. "Improve the quality of the parks, and the money will follow."
Currently, Mostafa Foda, a former minister who now works as an adviser to the Environment Ministry, is already lobbying on behalf of this goal. Members of the recently joined World Commission on Protected Areas may also back it in the near future.