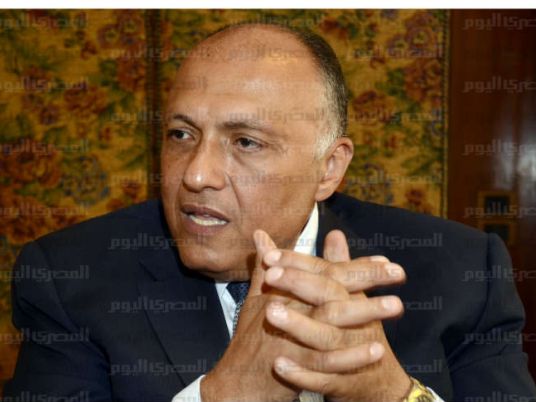 Egyptian Foreign Minister Sameh Shukri discussed with French Defence Minister Jean-Yves Le Drian ways of developing bi-lateral ties on the "political, security and economic" levels on Saturday, the Egyptian Foreign Ministry said.
During their talk, the two ministers discussed "joint cooperation in the fight against terrorism" and the "importance of efforts to combat terrorist organisations" a statement by Egypt's ministry of foreign affairs said.
Reuters cited on Saturday two unnamed sources as saying that Egypt is currently in talks with a French defence company to purchase two dozen fighter jets and a frigate.
The Egyptian foreign minister reiterated the importance of ending the airing of satellite channels belonging to the "terrorist Muslim Brotherhood organisation," which "incite violence and terrorism".
Egypt, which has designated the Brotherhood a terrorist group since December 2013, issued a call last week to European countries requesting that they end broadcasting Brotherhood channels through European satellites.
The two ministers discussed countries in the region including Libya and ways it can "exit its current crisis," addressing ongoing Egyptian and international efforts being carried out for Libya.
Egypt hosted the fourth meeting for ministers from Libya's neighbouring countries in August, which concluded with an initiative to gradually disarm warring groups withing the country.
The two sides additionally addressed developments in Syria. Shukri discussed the results of the meeting of Syrian opposition figures recently hosted in Cairo last month, stressing the importance of preserving the "sovereignty of Syrian land," given the threats it faces due to "terrorism".