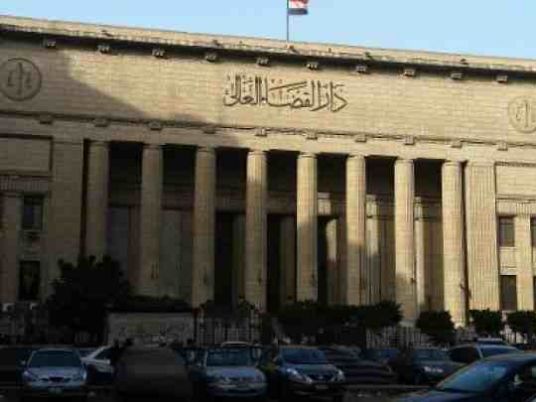 Egypt's judges are divided over the controversial new judicial authority law ratified by President Abdel Fattah al-Sisi on Thursday, which gives the President the right to select the heads of the judiciary authorities.
Judicial sources told Al-Masry Al-Youm on Friday that the Judges' Club and the Supreme Judicial Council are at odds, as the later don't wish to escalate against the law and wish instead to just appeal the case with the prosecution against it.
The sources said that Judge Mostafa Shafiq, head of the Supreme Judicial Council and Head of Court of Cassation, is leaning towards following the new law and submiting nominations to the presidency with the names of judges from whom the president can appoint a new head for the Court of Cassation.
Sources with the Court of Cassation said that prior to Sisi's ratification of the new law, some 400 judges with the court has signed a petition calling for an urgent general assembly meeting to take action against the law, a move that wasn't favored by Shafiq.
However, Judge Mohamed Mansour, Head of the Judges' Club, is supporting escalations against the new law, and supporting the calls for an urgent general assembly against it, to be held next Friday.
"Judges have their own will, and they will impose it through the rule of law," Mansour said; adding that the new law is "notorious and unacceptable."
Meanwhile, the Head of the Judges' Club in Alexandria, Judge Abdel Aziz Abu Ayana, said that the judges don't wish to clash with anybody, saying that his personal point of view is that it is best to respond legally against the law, by filling an appeal with the prosecution.
The new law in question, Law No. 13 for the year 2017, published on Thursday evening in the Official Gazette, included amendments to the regulations of the Administrative Prosecution Authority, Law of the State Commission, the Judicial Authority Law and the State Council Law.
The law gives the President the right to choose the head of each judicial body out of three deputies nominated by the General Assembly of the body.
The new draft law stipulates that the President would appoint the heads of the judiciary authorities, chosing from among the three vice-chairmen of each judicial body, nominated by the supreme council of that body from among the seven oldest deputies.
The newly-passed law is contrary to the old system, whereby the head of an authority would be appointed according to absolute seniority — a concept considered by State Council's Judges Club as "one of the established principles and legal constants and one of the guarantees of the independence of the judiciary", to ensure that no official interferes in the selection of the president of the Court of Cassation.