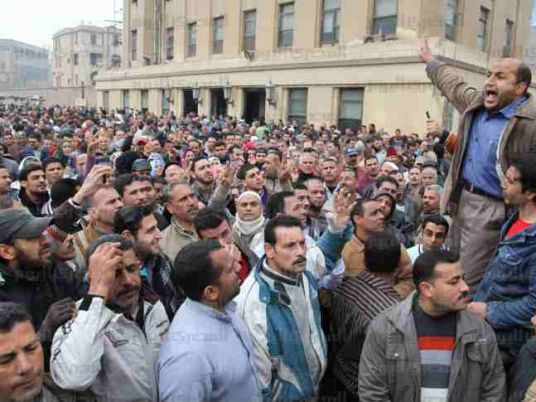 Eight workers from al-Mahalla Spinning and Weaving company have been referred to an administrative investigation as the company accused them of instigating their colleagues to go on strike, an independent labor rights organization said on its Facebook page on Wednesday.
According to the Center for Trade Unions and Workers Services, the workers went on a strike for four days last week to demand the disbursal of delayed bonuses, as well as to disclose what they labelled as corruption inside Egypt's oldest textile giant and remove the company's managing director.
Twenty-five thousands workers were forced to end their strike on Saturday, CTWUS said, alleging that other colleagues assaulted the protesting workers to get them to work.
The organization voiced solidarity with the workers, stressing on their constitutional right to protest.
Labor protests have seen a surge since the 2011 uprising that toppled former president Hosni Mubarak. Workers voiced numerous demands ranging from improved remuneration and better working conditions to removal of managing boards.
Egypt saw a total of 287 labor protests in 2014, attended by 114,907 workers, Manpower and Immigration Minister, Nahed al-Ashry, said earlier this month.
In 2008, Mahalla became the birthplace of dissent against the rule of former president Hosni Mubarak, with workers protests against price hikes and poverty inspiring several activist groups that later ousted Mubarak in 2011.