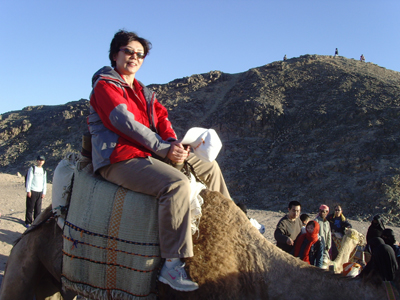 The number of tourists visiting Egypt increased in October by 7 percent compared to the month before, Egypt's official statistics agency said on Wednesday.
The Central Agency for Public Mobilisation and Statistics (CAPMAS) said in a statement that the number of tourists visiting Egypt in October reached 506,200 compared to 473,000 in September.
The figure, however, decreased by roughly 44 percent year on year; down from 909,400 tourists visiting Egypt in October 2015.
Most tourists in October came from western Europe, particularly Germany, whose share was 38.8 percent, followed by the Middle East and Eastern Europe, according to the statement.
The number of tourists arriving from Arab countries reached 153,600 in October compared with 192,600 in September.
The number of nights spent by tourists reached 3.3 million in October, representing an increase of 7.2 percent compared to September. However, the same figure represent a decline of more than half when compared to October 2015.
In its September report, CAPMAS said that Egypt lost over half of its tourists in the first half of 2016 compared with the same period last year.
The agency mainly ascribed the decline, which totaled to 51.2 percent at the time, to the decrease in number of Russian tourists by 54.9 percent and tourists from the UK by 14.9 percent.
In October 2015, a charter flight operated by Russian airline Metrojet broke up in midair 23 minutes after takeoff from Egypt's Sharm el-Sheikh Airport as it headed to St. Petersburg, killing all 224 passengers and crew on board. The Islamic State claimed responsibility for the attack.
Moscow suspended all flights to Egypt pending an investigation into the crash. The UK followed suit, halting all flights to and from Sharm el-Sheikh.
Egypt and the UK had agreed to work jointly on a security action plan. Recently, the Egyptian ambassador to the UK, Nasser Kamel, blamed Prime Minister Theresa May for obstructing the resumption of flights to Sharm El-Sheikh.
The UK remains the only country in the EU that still has not resumed its flights to the Red Sea resort, following the crash of the Russian Metrojet flight 9268.
Egypt's tourism industry, a vital source of foreign currency, has been hit hard since the plane crash.
The country had already been struggling to recover from economic problems and a shortage of foreign currency reserves since the 2011 uprising that toppled former president Hosni Mubarak.
The Egyptian government has adopted an urgent plan to revive tourism, which aims to attract 10 million tourists into Egypt by the end of 2017.