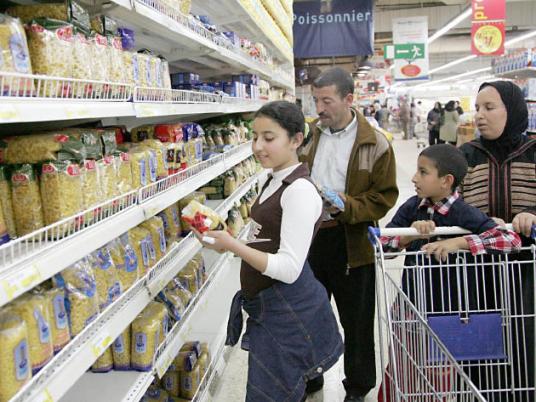 Egypt's urban inflation registered annually increases 11.1 percent in September 2014, compared with September 2013, due to price hikes of strategic commodities, announced the statistical body CAPMAS on Thursday .
The headline inflation rate rose by 2 percent month-on-month in September. Meanwhile, the inflation rate in the period January – September 2014 reached 10 percent, compared to the same period of previous year, CAPMAS added
In the meantime, core inflation computed by the Central Bank of Egypt, increased by 0.84 percent (m/m) in September compared to 0.60 percent month-on-month in August.
The increase was mainly a result of upward pressure from food and motor vehicle prices.
Accordingly, annual food and beverage inflation, in the period January – September 2014, climbed to 13.5 percent compared to the same period of previous year .
Food inflation has been increasing since begging of July 2014, when the government launched its fiscal consolidation program, adjusting upwards the prices of several regulated prices including diesel, benzene, electricity and tobacco.
The direct effect of these price adjustments explained the bulk of the monthly price developments.
Moreover, increases in the prices of inland transportation, fresh vegetables and fruits and other food items can be partly attributed to the indirect effects of the regulated price adjustments.
In its World Economic Outlook report, the International Monetary Fund (IMF) expected that the inflation rate in Egypt will stand 13.5 percent in 2015, versus 10.1 percent in the previous year.
The most important categories in the headline CPI are food and beverages (40 percent of total weight); housing, water, electricity, gas and other fuels (18.4 percent); medical care (6.3 percent) and transportation (5.7 percent), according to Central Bank of Egypt (CBE).
In Egypt, the headline Consumer Price Index (CPI) measures the change in the cost of a fixed basket of goods and services that are purchased by a representative sample of households from urban areas, which include Cairo, Alexandria, urban Lower Egypt, urban Upper Egypt, Canal cities and Frontier governorates.
Inflation Rate in Egypt averaged 8.92 percent from 1958 until 2014, reaching an all time high of 35.10 percent in June of 1986 and a record low of -4.20 Percent in August of 1962, according to the CBE.