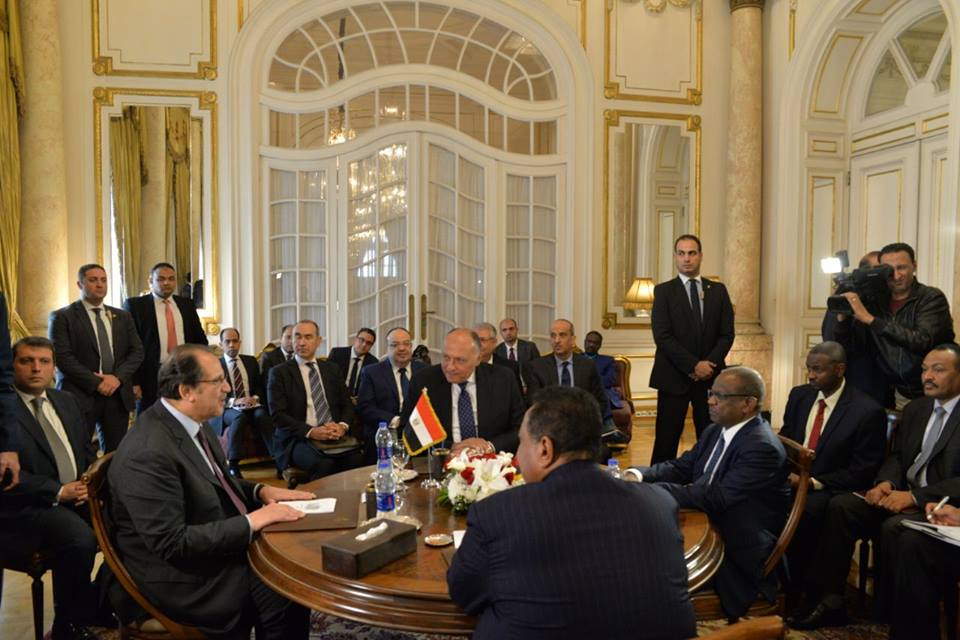 As part of attempts end the current impasse between Sudan and Egypt, a meeting was held on Thursday in Cairo between the Sudanese Foreign Minister, Ibrahim Ghandour, the Head of the Sudanese Security and Intelligence Service, Mohamed Atta Abbas, Egypt's Foreign Minister Sameh Shokari, and the Egyptian General Intelligence Chief Abbas Kamel, to discuss the two countries' regional and international issues of common concern.
According to a joint statement from the meeting, the two countries agreed on 11 points that will establish a framework for the shape of bilateral relations between the two countries.
The 11 points are:
Emphasize strategic relations between the two countries, including working to achieve and promote common interests, respect each other's concerns, respect internal affairs and work together to safeguard the national security of the two countries.
The points also emphasized the determination of the two countries to enhance cooperation in the fields of energy, electrical interconnection, land, air and sea transport, in addition to infrastructure projects.
It also emphasized the importance of developing joint cooperation and coordination between the two countries in the Nile waters in the framework of their commitment to the agreements signed between them, including the 1959 Convention.
The meeting also included discussions on the implementation of the outcome of the Egyptian-Sudanese-Ethiopian tripartite summit on the Grand Ethiopian Renaissance Dam [GERD]. This summit was held in Addis Ababa as part of the implementation of the Declaration of Principles signed in Khartoum on 23 March 2015.
The discussions also included talk about the importance of addressing the interests of the two parties in a framework of brotherhood, consultation and constructive coordination at all political levels, with a view to finding sustainable solutions that realize the aspirations of the peoples of the two brotherly countries.
Also discussed was the importance of correcting the media approach through working to contain and transfer the correct image of the relations between the two countries, based on joint work to conclude the charter of honor of the media between the two countries, and their rejection of abusive treatment of any of the two peoples or leaders.
They also agreed to continue to strengthen military and security cooperation between the two countries, and to hold the Military Commission, as well as the Security Committee at the earliest opportunity.
The two sides also agreed on the political and security consultation mechanism, which includes the foreign ministers and heads of the intelligence services of both countries, in order to enhance coordination on various issues of common concern and resolve any concerns that may arise.
The joint committee will be chaired by the presidents of the two countries this year in Khartoum. during the current year in Khartoum.
The last committee was held in Cairo in 2016.