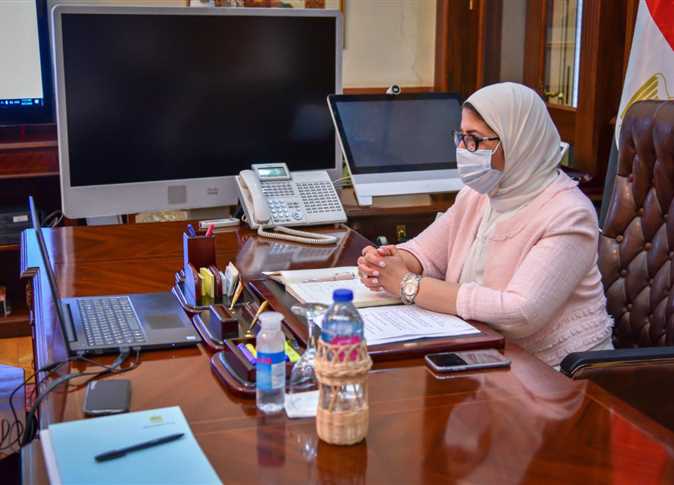 Egypt's Minister of Health Hala Zayed on Saturday held a virtual meeting with her Sudanese counterpart Sara Abdel Azim Hassanein to discuss cooperation as per President Abdel Fattah al-Sisi's directives.
The Egyptian Health Ministry's spokesperson Khaled Megahed explained that this meeting is the first virtual one held between the two ministers, with both having decided to hold further meetings to discuss future cooperation.
During Zayed's visit to Sudan with Prime Minister Mostafa Madbouly in August 15, Zayed held bilateral talks with Hassanein to discuss health services in both countries.
According to Megahed, the ministers discussed Sisi's initiative to treat one million Africans infected with Hepatitis C, identify which centers the initiative will operate from and kickstart the process to register Sudan's citizens within it.
Egypt will send Sudan medication, PCR devices and liver virus detectors, while training medical teams on how to screen and diagnose Hepatitis C.
Zayed call on Sudan's health officials to also attend a supreme committee regarding a plan of action for the joint Egyptian-Sudanese project in combating Malaria.
Egypt's Chief of General Intelligence Service (GIS) Abass Kamel and Minister of Health Hala Zayed on August 12 visited South Sudan to provide medical and healthcare support to the country.
The two officials made the trip following directives from President Sisi.
Zayed and her South Sudanese counterpart made a tour of several health centers located in the capital city, Juba, including of the Egyptian Kidney Center and the Juba Teaching Hospital.
Zayed pledged to provide South Sudan with medical aid to combat Hepatitis C, Hepatitis B and coronavirus.