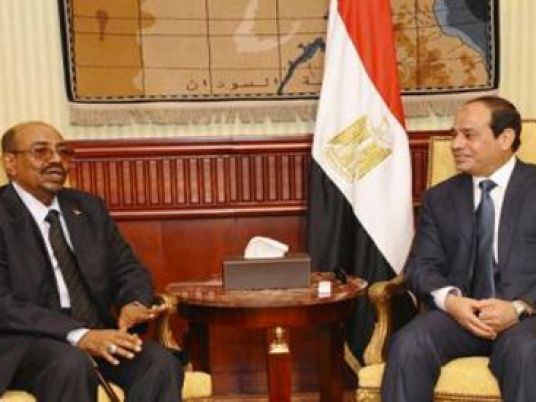 Egypt and Sudan agreed not to escalate the dispute regarding the Halayeb and Shalateen area, instead leaving the matter to the presidents of the two countries, according to Sudan's Foreign Minister Ibrahim al-Ghandour.
A joint court, which included the foreign ministers and the intelligence chiefs of the two countries, presented proposals to the presidents following their meeting in Cairo two weeks ago, he added.
Ghandour described Sudanese-Egyptian relations as historic and undeniable, saying that the two neighbors have at times suffered from ups and downs, but never reached the level of a confrontation.
"The relation between the two countries is rooted, especially at the grassroots level, and we must not escalate [tensions] that affect this level. Relations will return as they have always been, overcoming all temporary [tension]," Ghandour said in an interview with Sudan's Ashorooq television channel, which is close to the ruling party in Sudan.
The minister revealed an agreement between Egypt and Sudan stipulating that opposition figures in each country will not be expelled unless they are active against the regime of their country, he pointed out.
Sudanese ambassador to Egypt Abdelmahmood Abdel Halim will return to work in Cairo within days, after the end of a conference of ambassadors in Khartoum, which ends Wednesday, a month after being summoned from Egypt, Ghandour said.
Halayeb and Shalateen, also known as the Halayeb triangle, is a border area that has been an issue of contention since the late 19th century. In 1899, when Egypt and Sudan were under British occupation, the Anglo-Egyptian Condominium Agreement set the political boundary between the territories at the 22nd parallel, placing the Halayeb triangle inside Egyptian borders.
The area remained under Egyptian-Sudanese joint control until the dispute resurfaced in 1992 when Sudan allowed a Canadian oil company to search for petrol in the waters off Halayeb. Negotiations began, but the company pulled out of the deal until sovereignty would be settled.
Every now and then Sudanese President Omar al-Bashir makes a statement that the Halayeb triangle is sovereign Sudanese land. Bashir has threatened to resort to the United Nations Security Council if Egypt refused to negotiate over the territory.
The issue was renewed after Egypt and Saudi Arabia in April 2016 signed a maritime demarcation agreement stipulating that the sovereignty over the Egyptian-administered islands of Tiran and Sanafir would be transferred to Saudi Arabia.
Edited translation from Al-Masry Al-Youm