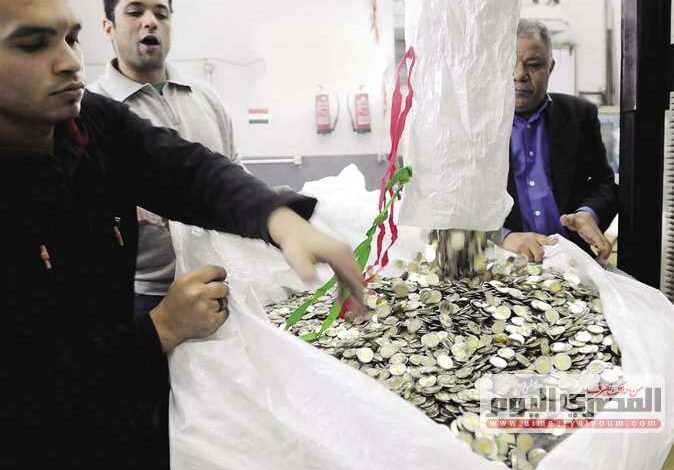 Egyptian Finance Minister Mohamed Maait announced Saturday that his country is looking forward to deepening joint cooperation with the UK in currency minting.
Egypt seeks to maximize the benefit from the capabilities of the Egyptian Mint, he explained, as it is one of only two institutions in the African continent and the Middle East specialized in minting, in order to cover the needs of local and regional markets at the best quality.
This came during a meeting Saturday with representatives of the British Royal Mint.
The meeting discussed a project to produce coins with local components through a factory or production line in the Suez Canal axis, with the aim of pumping new investments and exporting to Africa and the Middle East.
Maait explained that Egypt seeks to localize global expertise in minting, circulating and commemorative coins, in order to deepen local production, along with developing human capabilities, and expanding the use of technical and technological solutions.
The government is pursuing a policy that supports the national industry and stimulates economic activity.
Maait stressed that the Finance Ministry is striving hard towards achieving these goals by strengthening aspects of cooperation with international partners who have great experience.
The head of the Egyptian Mint, Hossam Khedr, said that there is a development plan to expand production, deepen the local component, and ensure the quality of work.
And the Adviser to the Finance Minister for Engineering Affairs Sherif Hazem said that Britain has offered several alternatives for technical cooperation to develop production lines and increase production capacity, covering local and regional markets.
Hazem stressed the relative advantages of investing in Egypt in terms of the geographical location close to the Arab and African markets, the provision of qualified labor and the energy needed for production, in addition to the various trade agreements that guarantee the access of products manufactured in Egypt to the neighboring regional markets.