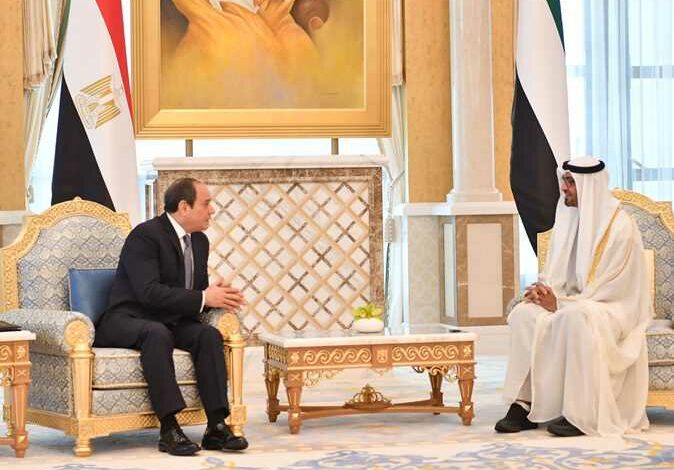 The governments of Egypt and the UAE announced the organization of a huge celebration titled "Egypt and the UAE are one heart", to celebrate the 50th anniversary of the establishment of Egyptian-Emirati relations.
The Egyptian government is eager through this celebration, to confirm the depth of strategic relations with the UAE, and to highlight the extent of distinction and privacy that unites the two countries, Prime Minister, Mostafa Madbouly, said.
He referred to an extension of grassroot relations alongside government cooperation, political understanding and consensus in visions between the leaderships of the two countries.
"We instructed the organization of special celebrations in commemoration and consolidation of these exceptional Arab brotherly relations spanning over 50 years… May God protect the UAE and Egypt,"Sheikh Mohammed bin Rashid Al Maktoum, Vice President, Prime Minister and Ruler of Dubai, said at the cabinet meeting.
Minister of Planning and Economic Development Hala al-Saeed stressed the depth of Egyptian-Emirati relations in various political and economic fields, in addition to investment cooperation between the two countries.
She added that the Egyptian government seeks to deepen cooperation with the UAE in all fields, especially the economy, to exploit promising opportunities for cooperation between the two countries.
The celebration includes an agenda of various events, which will be organized over three days in the Egyptian capital, Cairo, from October 26 to 28.
The first day includes a review of the economic relations between the two countries, the most important stations and experiences of success in this field, while the second day includes a presentation of the success stories of the cultural and media sector, and the most prominent projects and stations in the sports, artistic, and cultural fields.
The third day will conclude with a huge artistic and cultural concert in which more than 7,000 people will participate.