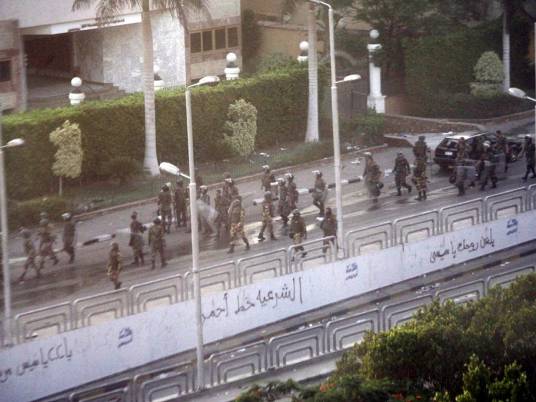 PARIS – The killing of at least 51 Egyptians during clashes between loyalists of President Mohamed Morsy, who were demonstrating against last week's military coup, and security forces sparked widespread condemnation on Monday.
A spokesman for the EU's foreign policy chief Catherine Ashton said: "We condemn and we regret the violence," and urged rival militants to "return to the democratic process as soon as possible."
The spokesman, Michael Mann, added that the 28-nation bloc was keeping the billions of Euros it has pledged to the country "under constant review" although he emphasized there was "no plan to change our aid regime."
"We are doing all that we can through talking to everyone on the ground to make sure everyone understands the need for peace to be maintained," said Mann.
Turkey's Foreign Minister Ahmet Davutoglu said he "strongly" condemned what he termed a "massacre," expressing his country's "solidarity with the Egyptian people."
He called for a "normalisation" in the situation in Egypt, saying it was "the hope for the rising calls for democracy in the Middle East."
Gaza's Islamist Hamas rulers also described the killings as a "massacre" and expressed their "profound pain and sadness over the victims."
In its statement, Hamas also called for "an end to the bloodshed among the Egyptian people."
Qatar, a key backer of the Muslim Brotherhood to which Morsy belongs, said it "strongly condemns such unfortunate acts that take away innocent lives."
The emirate urged "self-restraint" and "national unity" as it called for "dialogue to preserve security, safety, and stability" in Egypt, according to a foreign ministry spokesman.
The spokesman, who was not named, also urged Egyptian authorities to "protect peaceful protesters and their right to express their opinions and positions."
Meanwhile, prominent Egyptian liberal leader and Nobel Peace laureate Mohamed ElBaradei "strongly condemned" the killings, stressing: "Violence begets violence" and calling for an independent probe.
Germany also called for an independent investigation and urged all forces "to act with moderation and to renounce violence in all forms."
"There is grave concern that there could be a further escalation of violence in Egypt," the foreign ministry in Berlin said in a statement.
While not commenting directly on the recent violence, Iran slammed as "unacceptable and disturbing" the intervention of the army in political affairs.
"It cannot be denied that foreign hands are at work here," said foreign ministry spokesman Abbas Araqchi, adding: "The polarisation of Egyptian society is dangerous."