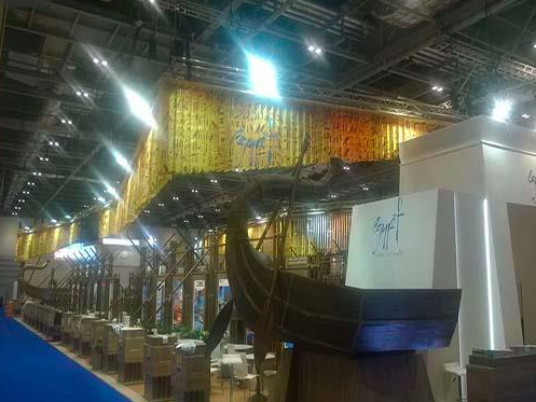 Egypt won the best booth design award at the prestigious World Travel Market 2015 held in London from November 2 – 5.
Staged annually at the ExCel Centre in England, World Travel Market (WTM) is a leading global event for the travel industry providing a display of different destinations and industry sectors for the UK and international travel professionals.
Created in cooperation with the Tourism Ministry, General Authority for Tourism and members in the tourism private sector, Egypt's booth bagged the best stall design award for the first time since participating in the international exhibition.
More than 40 hotels and 30 travel agents from Egypt participated at this year's WTM in an effort to promote the country's tourism industry among thousands of foreign visitors.
More than 50,000 senior travel industry professionals, government ministers and international press from around the globe gathered for WTM, making it the perfect venue for networking and building successful long-term business relationships.
The Egypt booth was designed in the shape of a Pharaonic Sun Ship which was met with great response and excitement from audience.
The aim behind the Egyptian pavilion's design is representing the inauguration of the new Suez Canal last August, which is perceived as a "potential game changer for Egypt's economy," said Hazem Hamada, architect and CEO of the Egyptian booth's design company.
The Pharaonic sun ship was made of wood with an entrance in the shape of a pharaonic temple, which symbolizes Egypt as the access to Africa. The pavilion also exhibits an impressive array of Pharaonic monuments.
Egypt is embarking on an ambitious plan to attract 20 million tourists annually by 2020, roughly double the current number, and to triple its international receipts to US$30 billion, according to The National.
Taleb Rifai, secretary-general of the United Nations' World Tourism Organization, which is helping Egypt draft its tourism strategy, told The National that he expects the 8.1 percent growth in tourism to Egypt between January to September to continue during the rest of 2015.
The award is set to be presented during a London celebration with Tourism Minister Hisham Zaazou accompanied by a delegation representing Tourism Ministry officials and media professionals.