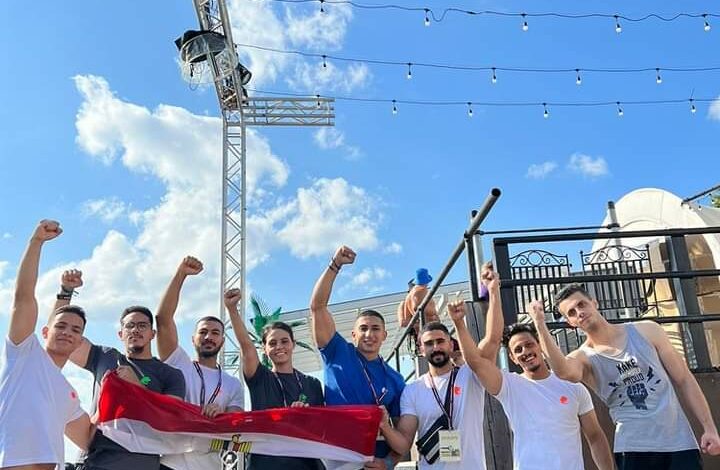 The Egyptian national team won the World Street Workout Championship held from August 20 to 21 in Latvia.
Mazen Ahmed won the first place in the Street Workout World Championship in the light weight section of the Freestyle category.
Abdul Rahman Deco won the third place third in the middleweight.
The Egyptian Street Workout Sports Federation headed by Islam Kortam, came through with its third participation of the Egyptian national team from which eight players qualified.
The Egyptian Federation succeeded in increasing the popularity and interest of Egyptian youth in street workout sports, transforming it from practice sports to competing for world championships.
The list of players who qualified to participate in the World Championships includes Rawan Nasser Hussein in the "Women Strength", Mostafa Magdi Al-Iraqi and Omar Ahmed Hussein in the "Men Strength", Yasser Mohamed Abdullah in the "Power", Abdel-Rahman Mamdouh and Mazen Ahmed al-Sayed, and Ahmed Magdy Emara in "Men Freestyle".
The Egyptian Street Workout Sports Federation was first announced in December 2018. Its players soon succeeded in participating in the world championships quickly.
The first participation was with only two players, then four players in the second participation, and the number was doubled to eight players in the current year's edition.
Minister praises team
The Minister of Youth and Sports, Ashraf Sobhi, congratulated the Egyptian team on this historic achievement.
"This achievement is a historic event for Egyptian sport, despite the fact that it is a new sport in Egypt, but the players of the Egyptian Federation for Street Workout Sports succeeded in making global achievements in it," he explained.
The ministry continues to provide all support to the national team to make more global achievements, he assured.
He added that last year, in the first official participation of the Egyptian team in the World Championship in Russia, the Egyptian team achieved fourth place globally.
Thanks to continued support for the game and attention to its players, the team succeeded this year in achieving first place.
The President of the Egyptian Federation Kortam congratulated his players and assured them further rewards to encourage further successes in Egypt's name.