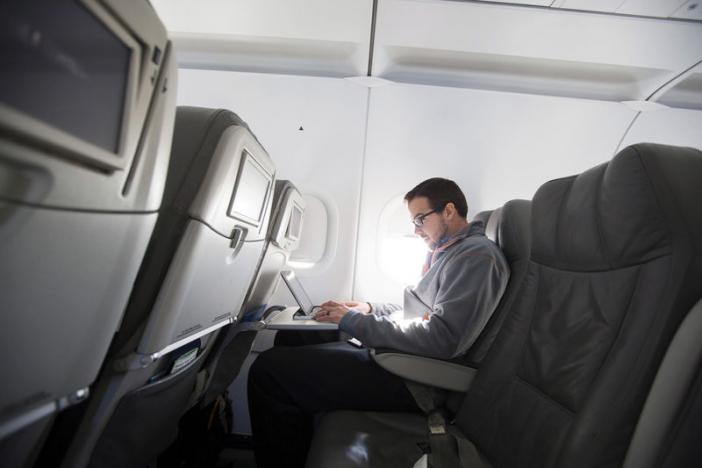 The United States will lift the in-cabin ban on laptops and other large electronic devices on US-bound flights from EgyptAir to New York starting July 12, EgyptAir Chairman Safwat Musallam said on Tuesday.
"The ban on bringing laptops and other electronic devices into flight cabins on EgyptAir flights to New York will be lifted as of tomorrow and will remain in place for a year or until another emergency amendment is introduced," Musallam said in a statement.
A similar ban on flights to London is still in effect, he added.
However, the US Department of Homeland Security said in a statement Tuesday that it still planned to review requests by three Middle Eastern airlines, still under the ban, to lift restrictions.
The agency will assess airlines from Saudi Arabia, Morocco and Egypt in the coming weeks to see if they have introduced the necessary security measures that would allow the ban to be removed at four airports, DHS spokesman David Lapan said.
The measures were imposed in March on nine airlines to address the potential threat of hidden explosives in laptops and other devices. The restrictions, coupled with the Donald Trump administration's travel ban on six majority-Muslim countries, hurt predominantly Middle Eastern carriers.
The US government enforced the electronics ban earlier in March, preventing passengers on incoming flights from majority-Muslim nations in the Middle East and North Africa from carrying laptops and large electronic devices onto planes.
The countries included Egypt, Jordan, Kuwait, Morocco, Qatar, Saudi Arabia, Turkey, and the United Arab Emirates.
The US has lifted restrictions on large electronics in cabins on six of the airlines after they adopted stricter screenings for explosives and other enhanced measures.
The ban was dropped Sunday for the airlines Royal Jordanian Airways, Kuwait Airways. Restrictions on Emirates, Etihad Airways, Qatar Airways and Turkish Airlines were dropped last week.