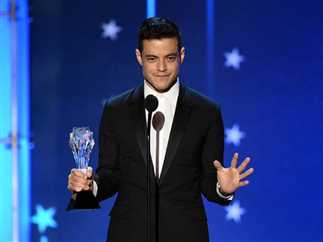 Egyptian-American actor Rami Malek won the Golden Globe for Best Actor for his role in the 2018 musical biopic film "Bohemian Rhapsody", where he portrayed legendary singer Freddie Mercury.
"I am beyond moved. My heart is pounding out of my chest right now," Malek said after receiving his Globe trophy, giving thanks to mother and all his family.
The Golden Globe Awards' 76th edition were presented at the Beverly Hilton Hotel, Los Angeles, by Canadian actress Sandra Oh and American actor Andy Samberg.
Malek is a young actor who has recently become successful in Hollywood. One of the many Arab stars to conquer world cinema, he played the pharaoh in "Night at the Museum" and the vampire in "The Twilight." He also co-starred in "Need for Speed" and is the star of the TV show "Mr. Robot".
Edited translation from Al-Masry Al-Youm