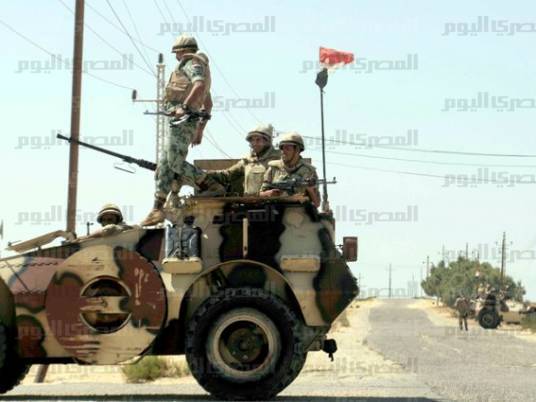 The Egyptian military is on high alert in Sinai and on its borders with Israel and Gaza, according to eyewitnesses and security sources.
Armed forces have been deployed on the border with Gaza and in areas with tunnels, witnesses told the DPA. Patrols are watching the border as forces and personnel arrived on the Gaza side of the border.
Forces from the Qassam brigades, the Palestinian police in Gaza, and the Israeli army have been deployed to the border.
Egypt's official security apparatus has declared that instructions were given to police in Sinai and that it has made preparations at all security establishments in Sinai.
These establishments include police stations, the North Sinai security department, the Arish airport, exits points in Rafah, Kerem Shallom, Ouga, the government's office, the court, the Arish central prison, the entrances and exits of Sinai, Ahmed Hamdy tunnel, and the Salam bridge.
Meanwhile, a security source in Rafah said that border crossing operations are running normally and that Egypt is receiving Palestinian pilgrims from Gaza, whose numbers have sharply declined.
A senior security source said that there was coordination with Israel to avoid any security violations and that the Egyptian army is deploying in Sinai, in coordination with Israel and UN emergency forces.
Meanwhile, the opposition in North Sinai resumed protests for the fourth consecutive day. The National Salvation Front, the 6 April movement, Tamarod, and Kefaya rejected President Mohamed Morsy's speech. The protesters said they would resume demonstrations and sit-ins until Morsy steps
down.