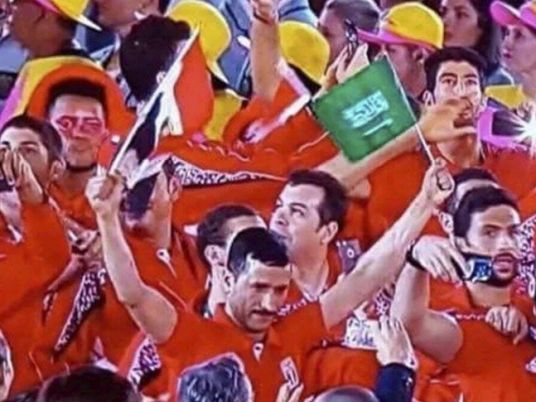 On Friday, the Egyptian Olympic squad joined the throng of athletes that flooded Rio de Janeiro's Maracanã Stadium for the parade of athletes at the Olympic Games opening ceremony.
Among them was Hamada Talaat Farahat, one of the 12 athletes making up Egypt's shooting squad this year.
But before even walking onto the shooting range, Farahat has brought disappointment and upset to Egyptian fans by raising the Saudi Arabian flag — as opposed to the Egyptian one — during the opening ceremony, prompting the athlete to defend his move.
Egyptian followers of the games were horrified on Friday to see a flash of green amidst a sea of patriotic red, white and black, as the shooter apparently failed to find an Egyptian flag to wave in the frenzy of the parade.
Farahat has since defended himself against accusations of raising a flag other than that of his own country, telling Al-Masry Al-Youm that people's reactions have been unreasonable.
"I found more than 20 Saudi flags on the ground and they were being trampled on by athletes and staff from the sports squads," he said.
"It's known that the Saudi flag reads the Muslim profession of faith. I picked up what I was able to, so as to restore honor to the name of 'Allah', written on the flag," he said, defending his effort to counterbalance what he considered disrespect for the flag's significance.
"If the same thing happened again, I would still pick up the Saudi flag. People have blown the incident out of proportion. I love my country a lot and I raised the flag impulsively, without meaning to offend people," he said.
Shooting is one of the events in which Egypt will be most represented this year, with other largely represented sports for the country including swimming, fencing and weightlifting. Hopes are high for fencer Alaa Abouelkassem this competition, one of the two Egyptians who won a medal at the 2012 London Olympics, said Al-Ahram Online. Abouelkassem plays his first match on Sunday, while boxers Mahmoud Abdel-Aal and Walid Seddiq take to the ring the same day.
Edited translation from Al-Masry Al-Youm