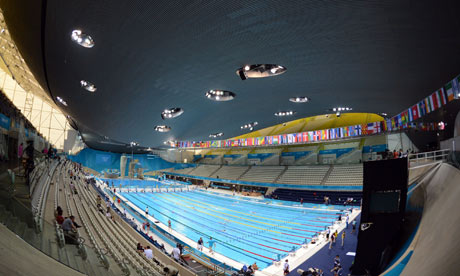 Yomna Khallaf, an Egyptian synchronized swimmer in the London 2012 Olympic Games, has said that the Egyptian Olympic Committee (EOC) provided its athletes with fake Nike training kits.
Shortly before heading to London, Khallaf, 20, told Cairo Stadium Radio that "we went to the Olympic Committee, and they gave us funny things. I wear X-small but they gave me Nike gear that was size double X-large."
Khallaf is a media student at the American University of Cairo. This is her second time participating in the Olympics.
"They gave us a bag that has a Nike logo on the front, but the zipper has the logo of Addidas," Khallaf said.
"We had to buy LE17,000 worth of real things from Nike for the team to look good," she continued.
Egypt is sending 117 athletes to compete in the London 2012 games. They face high expectations back home to win medals and not to repeat the weak performance in Beijing 2008, when Egypt won only one medal — a bronze.
Nike released a statement in response to the charges, saying, "Nike is highly concerned that if these allegations are true, the athletes will have received products that do not meet Nike's quality standards. Nike's authorized distributor in Egypt has sent two official communications to the EOC on this issue and no response has been received."