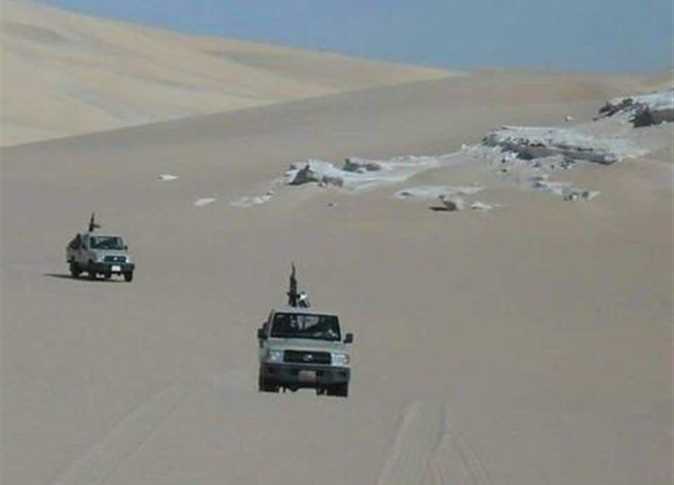 Controversy surfaced in Egypt's social media sphere last week in the wake of clashes that lead to the death of policemen and security forces last Friday — according to the Interior Ministry 16 policemen were killed and 15 militants.
Further questions were spurred on social media after the family of Egyptian Bedouin Salah El-Shwhli, who lived in the El Slgat area close to the sit of the clashes in El-Wahat El Baheria, told the media that Salah was killed during the clashes as he was working as a tracker and guide for the police. However, his name was not mentioned in the Interior Ministry statement listing those who were killed in the attack.
El-Shwhli was with the security forces who were assigned to arrest the militants who ended up attacking them, Hend Ahmed, El-Shwhli's wife told an Egyptian media outlet.
She added that he was serving as part of the Kasasi Al-Athar, the desert trackers unit, to help guide security forces in the desert.
Social media users raised questions about the nature of El-Shwhli's work and whether he and other trackers are regular members of the army or just informants.
The former North Sinai security director Mohamed Mattar told Egypt Independent on Thursday that desert trackers are actively present with police and the armed forces in the desert where there is a need for the security apparatuses to work in these areas.
"They are Bedouins who are fully aware of the mountains and any corner of the desert area in which they are living, they have camels and have great ability to trace people in deserts through monitoring their footsteps" he explained.
Mattar also said that because there are fugitives who are based in rugged mountains, too difficult for the armed forces to track down, they will employ desert trackers to help.
"They have trained dogs that can easily follow and smell clothes of lost people in the desert," he added
Mattar said that desert trackers are recruited regularly by the police and army and that they receive monthly salaries, the same as the army or non-commissioned officers.
In August 2017, the Egyptian Armed Forces declared through its official spokesperson's Facebook page that it needs a new batch of desert trackers, and asked for people from border areas to apply.
Former head of the special forces 777 unit, Hatem Saber, explained that desert trackers are present in all mountain areas such as North Sinai and the western desert and have the ability to identify people's genders from footsteps in the desert.
Saber said in a media statement that desert trackers have effectively participated in the clearing of Halal mountain in North Sinai and also stressed that it is not possible that any of the trackers were treasonous and betrayed security forces in the Wahat El-Baheria attack.