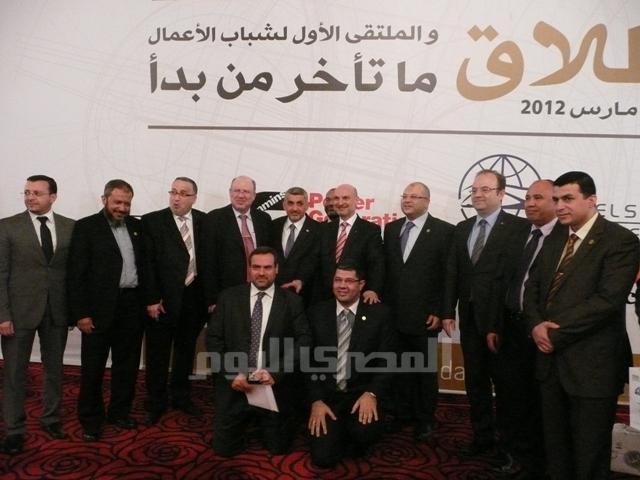 The Egyptian Business Development Association, led by Muslim Brotherhood businessman Hassan Malek, held a Ramadan iftar for its members on 28 July. Malek used it as an opportunity to update fellow businessmen about the association's latest developments, according to its Facebook page.
In his opening speech, Malek announced the formation of the Egyptian-Asian Forum, which will hold its first economic conference in November.
He spoke about the formation of an initiative for small and medium enterprises with an initial capitalization of LE100 million, wholly funded by Egyptian businessmen. He called on members of the association to support the initiative, which he said he hopes will create an equal partnership between funders and producers, with the understanding that it is a social investment.
Osama Farid, who is responsible for the association's international cooperation committee, said the group signed 20 economic agreements with foreign traders and embassies, including Turkey, Spain, the Netherlands, the UK, Singapore, India, Canada and others.
The business association also held discussions with the European Bank for Reconstruction and Development and the European Investment Bank, as well as other international financial institutions. It also participated in three international conferences in Italy, Turkey and Spain, Farid said.
Association board member Tareq al-Gamal spoke about the formation of the Egyptian Business Development Association University for Vocational Education, which he said would be the first of its kind in the Middle East. Gamal pointed to the success of this kind of training in the UK, which caters specifically to the demands of the labor market.
Other businessmen at the dinner included Abdel Rahman al-Seoudi, Safwan Thabet, Samir al-Nagar, Essam Haddad, Loay Abdel Wahed, Ahmed al-Ezaby, Mohamed Momen, Tareq Fahim, Moaz Malek and Ahmed Abdel Hafiz. All are board members of the association.