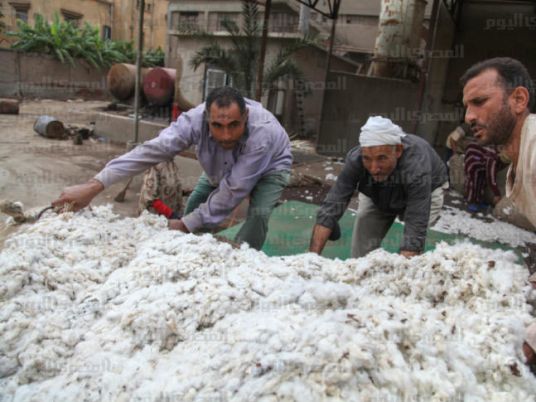 The Agriculture Committee of the Egyptian Businessmen Association has called for suspending the decision banning the import of cotton, to study its effects on the local industry.
The Cabinet needs to re-examine the decision in coordination with the business community, in order to protect the Egyptian cotton, without damaging the local textile industry, said Alaa Diab, head of the Agriculture Committee.
The decision will affect 60 percent of textile factories and lead to discouraging foreign and domestic investment, which rely on short-staple imported cotton, Diab said.
The total area of cotton cultivation in Egypt is estimated at 247,000 acres this year, compared to about 276,000 acres last year, which indicates that the local cotton production is not enough to provide the yarn needed for the textile industry, the Egyptian Businessmen Association said in a statement on Tuesday.
The statement added factories consume about 500 thousand tons, while the domestic production of yarn does not exceed 170 thousand tons.
Agriculture Committee member Walid Abdel Rashid said the committee had submitted a memorandum to the Cabinet, recommending the abolition of the ban, and suggesting solutions to protect the cultivation of cotton without affecting the domestic industry, which depends on imported cotton.
The memorandum stressed the importance of producing high-quality seeds under the supervision of the Ministry of Agriculture and the Cotton Research Institute to preserve the genetic purity of seeds and prevent the deterioration of Egyptian cotton, said Rashid.
He added that the government should buy strategic crops from farmers and guarantee a margin of profit to them at the same time.