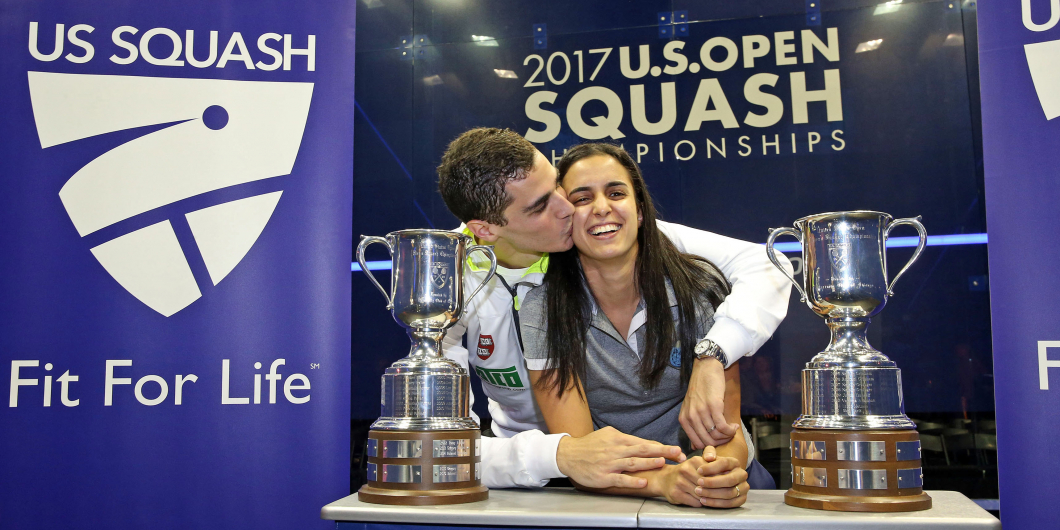 Egyptian squash players Ali Farag and Nour al-Tayeb were simultaneously crowned the men's and women's 2017 US Open titles for the first time, beating fellow Egyptians Mohamed El-Shorbagy and Raneem El-Welily on Sunday.
World fourth ranked, Farag needed 49 minutes to beat Egyptian star and world number two ranked Mohamed El-Shorbagy 3-0 (12-10, 11-9, 11-8).
Farag told PSA, "It's a good omen when she plays before me! It was a roller coaster of emotions but I think I dealt with it really well and I couldn't be happier!"
Meanwhile, world number ten, Nour al-Tayeb defeated her compatriot and world number two Raneem El-Welily 3-2 (8-11, 11-4, 5-11, 11-7, 11-5) in 52 minutes.
"It's a dream, especially since we did it together on the same night," Farag was quoted as saying on the tournament's official website after the match.
"We couldn't have asked for a better week and I hope it's the first of many to come together."
Al-Tayeb, who beat top seed Nour al-Sherbini and two-time champion Laura Massaro on the way to the final, is the first Egyptian woman to win the US Open after beating second seed Raneem El-Welily in five games.
Tayeb said that as soon as she concluded her game, she wanted to watch Farag play as a sign of support for his hard work and long hours of practice.
"Is this really happening?" said a delighted al-Tayeb. "It doesn't seem real. … I pictured that moment so many times, for three or four years. I dreamed of it, thinking, 'I hope that one day, I can win a major title.' And to be honest, I didn't think it would happen here," she said.
"Just before I came, I was telling my coach, if I want to win this, I have to beat so many top players, that it didn't seem real at the time. And now, standing here, I still cannot believe it." the Egyptian squash star said.
Farag also had to defeat his compatriot Mohamed Al-Shorbagy to secure his title.