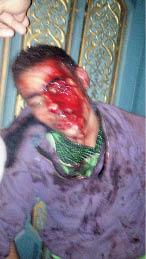 Doctor Raslan Fadl's license was revoked on Thursday, months after he was found guilty of killing 13-year old Suhair al-Bataa, reported the BBC.
Bataa died in 2013 after undergoing a female genital mutilation (FGM) procedure, performed by Fadl, who is the first doctor to be convicted of performing FGM.
Testimony during the trial claimed Bataa was forced to undergo the FGM operation by her father, which Fadl denied carrying out, instead claiming that Bataa died after having an allergic reaction to penicillin.
Although Fadl was sentenced to two years in prison in 2015, NPR reported in December 2015 that Fadl had not yet been imprisoned and he continued to practice medicine.
Despite its widespread practice in Egypt, FGM was officially banned in 2008 under Article 242 of the Penal Code, which criminalizes FGM and states that those who practice the procedure could receive a prison sentence ranging from three months to two years.
The Health Ministry and National Population Council launched an initiative in mid-February called "Doctors Against FGM" that aims to end the practice of female genital mutilation (FGM) in Egypt.
Egypt's 2015 health survey revealed that around 9 in 10 women aged between 15-49 have experienced female genital cutting. The procedure is often carried out by medical professionals, such as nurses or doctors.