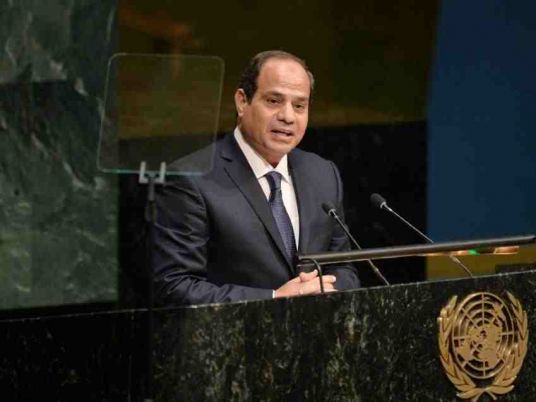 Egyptian expatriates in the US organized a rally at the UN headquarters to support President Abdel Fattah al-Sisi, despite heavy rainfall and the provocation from some opponents of Sisi rallying supporters.
Sisi is scheduled to deliver a speech at the UN headquarters on Thursday.
After meteorologists announced the possibility of heavy rain, Sisi's supporters bought equipment in preparation for the rally and set up tents to keep out of the rain.
Ahmed Fadaly, head of the delegation of Arab diplomacy in New York, hired two vehicles carrying huge screens to roam the streets of New York around the UN headquarters to display documentary material on "Qatar's support for terrorism" and some parts of statements by US President Donald Trump, politicians, and foreign and Arab experts, which passers-by interacted with.
Egyptian expatriates also organized a rally on Thursday morning against Qatar where a number of Yemeni expatriates also joined. They raised photoshopped photos of Qatar's Emir Tamim bin Hamad which showed him bloody handed and called on him to stop supporting terrorism and killing innocent people in the Arab world.
After participants chanted "Qatar is terrorist, we support the Egyptian army," altercations occurred between a number of opponents including Muslim Brotherhood members and supporters promoting the police to interfere and take opponents away from the rally's vicinity.
The US Copts Association participated in the rally and raised photos of Sisi standing with Pope Tawadros.
Most of the participants wore t-shirts bearing a photo of Sisi.
"Sisi has put his life at stake for the sake of Egypt and leads a unique battle for development and against terrorism, so at least we have to welcome him in a manner worthy of his stature," said Nabil Magalla, founder of the Egypt for Egyptians expats association.
"Rain did not stop us from participating, and it wouldn't even if it turned into hurricanes," he added.
"I'm here on a visit to see my son who lives in the US, in Bayonne, New Jersey, but I long to return quickly to Egypt — 'Umm al-Dunya'. I participated in the rally for my country and its beloved president who is working hard to elevate it," said a participant wearing a galabeya named Eid Feltas from Upper Egypt.
Edited translation from Al-Masry Al-Youm