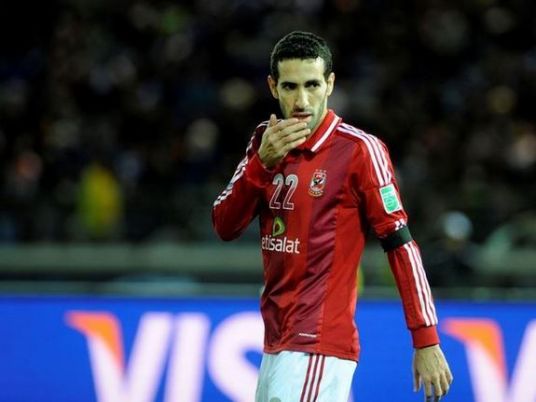 Former football star Mohamed Aboutrika has been added to the Egyptian authorities' terror list by a court, based on suspicions that he has provided financing for the now banned Muslim Brotherhood group, his lawyer said on Tuesday.
In 2015, a government committee froze the assets of Aboutrika, who had played for Cairo-based club Al-Ahly and Egypt's national team, two years after he retired.
The government accuses him of financing the Brotherhood, which was classified as a terrorist organisation at the end of 2013.
According to an anti-terror law imposed in 2015 by President Abdel Fattah al-Sisi, anyone on the country's terror list is subject to a travel ban, and their passport and assets are liable to be frozen.
Aboutrika, one of the most successful African footballers of his generation, had publicly endorsed the presidential bid of Mohamed Morsi in 2012.
Morsi went on to become Egypt's first democratically elected president, only for the army to oust him one year later and ban the Brotherhood organisation.
Aboutrika's lawyer Mohamed Osman said the court's decision was "contrary to the law" as the retired player "has not been convicted or formally notified of any of the charges against him."
"We will appeal this decision," he said, adding: "if he is added to the list there will be many legal consequences, notably the travel ban."
The freeze on Aboutrika's assets remains, despite two court orders that it be lifted, Osman added.
In an interview with state-run newspaper Al-Ahram in May 2015, Aboutrika denied that his company — or any of his partners — had ever funded the Islamist movement.
Since Morsi's overthrow, a police crackdown against the Brotherhood has left hundreds dead and thousands jailed.
Aboutrika retired in 2013, and the 37-year-old has since avoided expressing his political views publicly.