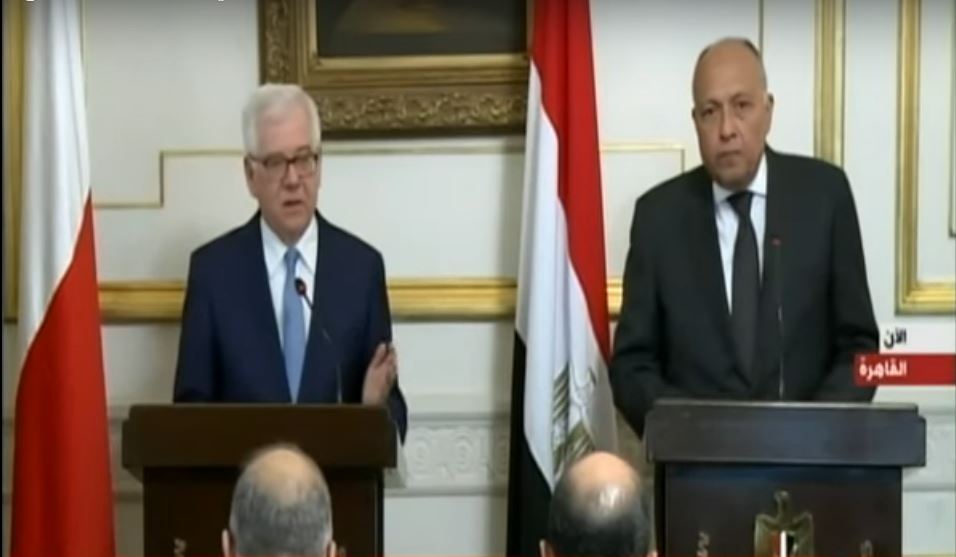 Egypt's Foreign Minister Sameh Shoukry affirmed the importance of cooperation between Egypt and Poland, which dates back more than 90 years and is based on mutual respect and common interest.
His statements came during a joint press conference held by the Foreign Minister on Sunday with his Polish counterpart Jacek Czaputowicz near the end of their talks in Cairo.
Shoukry said that these talks dealt with overall relations between the two countries and how to develop them, and also discussed certain regional and international issues, foremost of which is the Palestinian issue and efforts exerted to reach a final solution.
The talks also dealt with successive developments in the region, Egypt's efforts to combat terrorism, and how to best deal with illegal immigration, Shourky said.
He added that there is consensus to work on resolving the conflicts and economic conditions that drive migration through bilateral and regional cooperation, stressing that Egypt has relations with the Visegrád Group states and the EU.
The foreign minister further said that economic cooperation between the two countries is up to more interaction and there are plans to establish a Polish area in the Suez Canal axis, in order benefit from economic opportunities in Egypt.
He continued that Egypt has made great efforts in providing security and safety towards tourists thanks to its security services.
On his end, the Foreign Minister of Poland said that his country sees Egypt as one of the most important partners in Africa and the world, expressing hope to strengthen and intensify further relations between them.
"We cooperate in all economic fields and cooperate in the fight against illegal immigration and we appreciate the role of the Egyptian government in the fight against extremist terrorism," he added.
He said that Poland supports the peaceful settlement of the Palestinian issue, praising Egypt's role in seeking stability in the region.
Czaputowicz said that the number of Polish tourists in Egypt has recently increased thanks to Egypt's efforts to maintain security.
Edited translation from Al-Masry Al-Youm