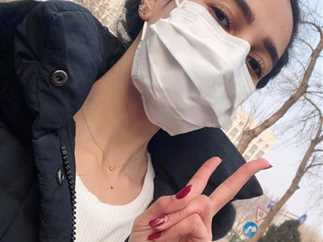 An Egyptian student is refusing to leave the Chinese city of Wuhan, the epicenter of a deadly coronavirus outbreak that has killed more people that the 2002-2003 SARS epidemic and spread to over 24 countries worldwide, out of fear that she will spread the virus back home. 
Basma Mostafa, a PhD student at Beijing University, explained her reasoning in a post on her personal account on Facebook, saying she was worried about the possibility of spreading the infection to loved ones in Egypt.
"My family is concerned about me…and (believes) I have to come back and be with them. (But) I am also concerned about them all, and I feel responsible for them. When I come back I don't (want) to transfer the infection to them," she wrote.
The PhD student's decision to remain in China comes in the context of the Egyptian government's efforts to evacuate its citizens from Wuhan and a decision by Egypt air to suspend flights to and from China starting this week. On Sunday, Egypt announced that it would designate al-Negaila Central Hospital in Matrouh to quarantine returnees from China, many of whom are master's and doctoral students.
According to instructions from Prime Minister Mostafa Madbouly, the Ministry of Civil Aviation was to equip a private plane with a medical team and supplies to transport Egyptians who wish to return to the country from Wuhan.
Madbouly also issued instructions for infection control measures during the flight, and upon arrival passengers will enter quarantine for 14 days before being admitted to the country.
"China is currently making every possible effort to combat and deal with the virus," the student said, which she said includes "building a hospital in 6 days in the area where the virus spread to accommodate the infected." 
She added: "Although the situation is difficult, I will not find a safer place than where I am right now."
She argued that the number of deaths and cases of the infection in mainland China, while appearing high, should be understood in comparison with the population in the country, adding that a large proportion of the deaths have been associated with individuals with weaker immune systems, such as the elderly and small children.
"China has a history of dealing with viruses such as SARS and others. Until now, no treatment for (Corona) virus has been discovered. Recovery depends on the strong immunity of the patient. Some cases have been cured, and I am fully confident that (Chinese officials) will handle the crisis and will discover a treatment soon," Mostafa wrote.
"I've been living in this country for many years, and by now I've developed a sense of belonging to it, with all due respect to (foreigners) who have decided to leave China (due to the outbreak)."
"I feel a sense of duty towards my second country that has pushed me to stay, especially since I am completely confident that if, God forbid, I caught the infection, I would (have access to adequate) health care like any Chinese citizen here, (maybe) more because I am a foreigner," she added.
Countries around the world began evacuating their citizens from China last week, with some companies suspending or cancelling flights and airports intensifying measures to prevent the spread of the infection.
No cases of coronavirus have been reported in Egypt, but the Ministry of Health said last week that officials had started issuing "health monitoring cards" to travelers arriving from China at the Cairo International Airport, according to the head of the Preventive Medicine Sector at Egypt's Ministry of Health Alaa Eid. Moreover, arrivals to Egypt from areas where the virus appeared underwent a medical examination before being admitted in the country, as part of a precautionary plan developed by the Health Ministry last month.
Last Thursday, Egypt also announced the deployment of 10 "self-sanitizing" ambulances equipped to deal with potential cases of coronavirus, at a cost of LE5.5 million each.
The World Health Organization declared a global emergency on Friday over the new coronavirus, with the death toll as of Monday having climbed to over 360 in mainland China.