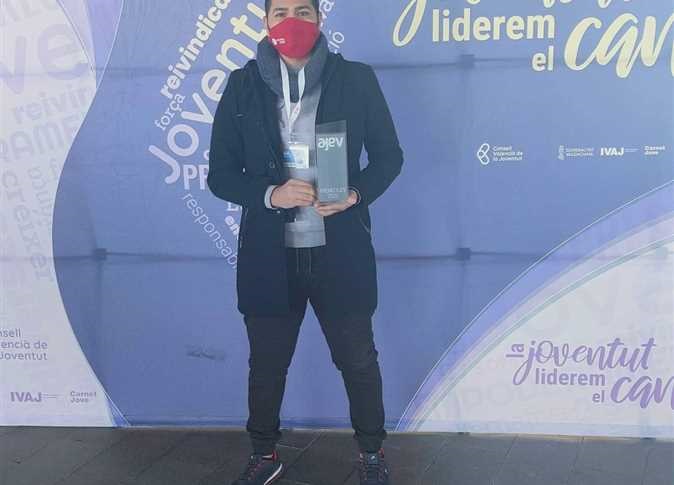 Starting in Cairo's Shubra neighborhood, young engineer Omar Abdel-Gayed left Egypt after graduating from Helwan Engineering Faculty in 2009 to find work opportunities abroad.
Years later, he was the only Arab to win the award for the best personality Erasmus in the EU for 2017, and more recently was named Valencia's Best Young Entrepreneur.
After leaving Cairo, the young engineer spent four years traveling throughout Europe searching for opportunities.
In 2016, he was finally awarded a European Union grant to volunteer in Spain for a year, and jumped on the opportunity.
"I applied for a European Union grant in 2016, and it was about projects related to social entrepreneurship. During this year they offered me to work with them as a project coordinator between Spain and the European Union," he said.
During his stay in Spain, Abdel-Gayed launched a project to promote travel among young people in Spain. He traveled by bicycle to five neighboring countries in 20 days, spending just one euro per day.
He spoke to Al-Masry Al-Youm about his adventure, saying: "It is known about the youth of Spain that they are closed in on themselves and refuse to travel outside the country. So I made an initiative in which I was able to travel to 5 countries."
Networking seemed to play a big role in Abdel-Gayed's success. He told AMAY that he visited the chambers of commerce and investment ministries in each country that he spent time in to search for grants and work opportunities. He also sought out and did some television interviews.
Abdel-Gayed also designed a volunteer work program in Arabic and a number of foreign languages to promote the idea that Arab youth are capable of creativity.
"My main goal was to change the idea about Arabs in foreign countries, and introduce the idea that an Arab can be the owner of a business if he can use his time and abilities properly," he said.
Abdel-Gayed does not take all the credit for his success, though. "My mother my role model and encouraged me to travel and adventure despite my young age," he said.
Edited translation from Al-Masry Al-Youm