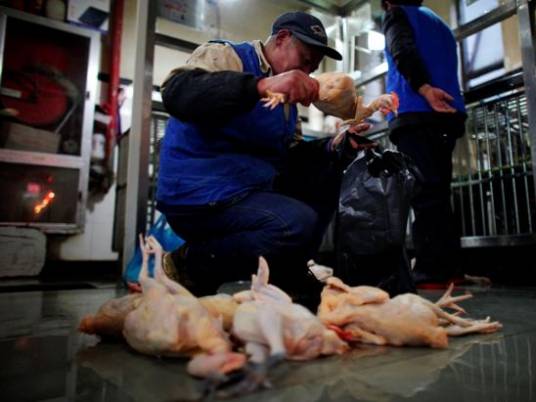 An Egyptian woman died of bird flu last Wednesday in Minya, Upper Egypt; the third death from the disease in tree days and the forth in the country in 2014, according to the Ministry of Health .
A woman named Sabah Abdel Hamid Marei, 30, a housewife from Minya after she was a victim dealt with infected birds and headed to the hospital too late after her condition had deteriorated, Al-Masry Al-Youm reported .
The total number of cases of bird flu since the beginning of 2014 was seven.
"Four cases have been cured, while the other three died," said Amr Qandil, head of the Preventive Medicine Sector.
Haitham Abdel Hamid Marei, the victim's brother, said that his sister died as a result of medical negligence at the hospital.
"The results of the sample analysis proved that the victim had been infected with bird flu after being held at the Fever Hospital in Beni Mazar," said undersecretary of the Health Ministry in Minya, Milad Sediq. "The severe inflammation in her lungs led to respiratory arrest."
"The victim denied at the beginning of her illness coming in contact with birds, but she was
The last death raises the H5N1 virus death toll 67 to Egyptians since the outbreak of the epidemic in 2006. The death rate reached 37 percent of the 179 people who caught bird flu in Egypt, compared to 55 percent on the international level, mostly in China.
Around two million workers involved in the poultry industry and eight million people of their relatives have been harmed since the emergence of bird flu in Egypt, according to the State Information Service.