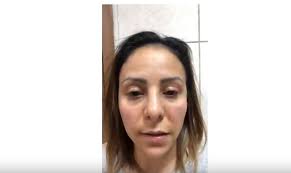 Egyptian fitness coach Fatma Aziz said she insisted on filing a lawsuit against five female bicycle riders after they had beaten her with their shoes on November 6 alongside the beach in Salmiya.
Aziz clarified that five Kuwaiti women had beaten and kicked her after she rebuked them when one of them collided with the child of Aziz's friend alongside the beach.
She added that the Kuwaiti women had also beaten her head with their shoes and the medical report showed that she was injured with bruises and a fractured finger.
Aziz said during an interview in "Massa' DMC" on Saturday, "I have been living in Kuwait since 2011. I have worked with women and I have never been beaten. I will not leave my right…. As we respect people, we must be treated in a respectful manner."
The police arrested the Kuwaiti women after Aziz filed complaint on Tuesday. Aziz asserted that the police has not tried to force her to relinquish the complaint.
Edited translation from Al-Masry Al-Youm