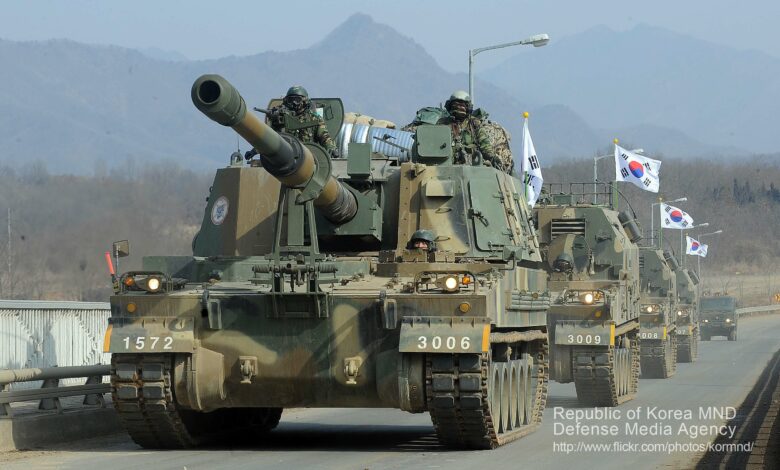 The Egyptian Ministry of Military Production revealed that the "200 Military Factory" has great capabilities to meet the demands of the army forces to manufacture weapons locally.
The "200 Military Factory" manufactures the M1A1 tank, and the Egyptian armored vehicle "Sina 200", in addition to manufacturing the Ural vehicle's chassis and rapid assault bridges.
The factory is now working to start manufacturing one of the most state-of-the-art artillery systems in the world, the K9 A1 EGY howitzer system.
The factory also meets the needs of the Egyptian Interior Ministry in providing vehicles to transport soldiers and bulletproof vests.
The spokesperson for the Ministry of State for Military Production Mohamed Eid Bakr, said that there are major ambitious plans to work on developing the armored vehicles production and repair factory to improve its manufacturing and technological capabilities.
K9 A1 EGY
The Egyptian Armed Forces had announced the signing of an agreement with South Korea to arrange the joint manufacture of the K9 A1 EGY howitzer with the South Korean Hanwha company.
The artillery system is called the K9 "Thunder", and is self-propelled, developed by "Samsung Techwin" for the benefit of the South Korean Armed Forces.
It is popular in NATO countries, and maintains unique combat advantages with 155 mm caliber.
The range of "Thunder" missiles ranges from 40 to 56 km, and the "K9" has the ability to withstand the effects of heavy artillery bullets, thanks to the thickness of the shielding (about 19 mm).
Among the advantages of the Korean artillery system, which has a crew of five, is its ability to counteract the effects of chemical and biological attacks.
Sina 200 armored vehicle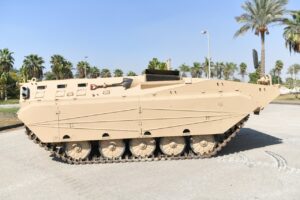 The Sina 200 armored vehicle is the first military armored vehicle entirely manufactured in Egypt.
The beginning of its design and production took place within the "200 Military Factory" for armored production and repair.
The armored vehicle was designed and produced by the Ministry of Military Production as a tracked armored vehicle comparable to the Russian BMP.
This armored vehicle is characterized by speed and flexibility.
It features a net to protect it from RPG-type projectiles, alongside additional armor made of armored steel, which the ministry has recently begun to produce.
It weighs 13.8 tons and is armed with a 12.7 mm machine gun. It withstands explosions and shrapnel of 155 mm artillery at a distance of 30 meters, and has a top speed of 65 km/h.