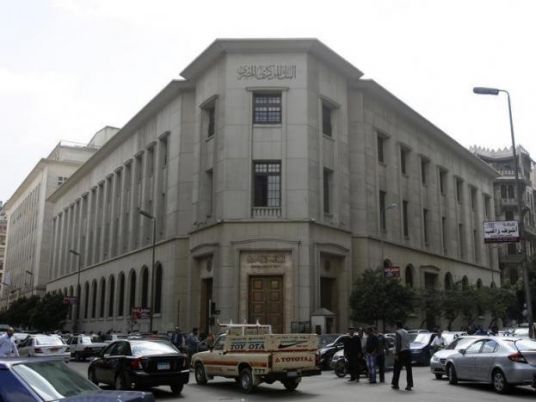 With Egypt's inflation still above 30 percent, the central bank is expected keep its key interest rates on hold in its monetary policy meeting this week, a Reuters poll showed on Tuesday.
Nine out of 10 economists polled by Reuters said the bank on Thursday will keep the deposit rate at 18.75 percent and the lending rate at 19.75 percent for the third month in a row.
Inflation has shot up since Egypt floated the pound in November last year in bid to clutch a $12 billion International Monetary Fund loan aimed at reviving the economy, which was hit hard by the 2011 uprising.
The pound has lost half of its value since the float and the CBE has raised key interest rates by some 700 basis points to ease inflationary pressure.
Consumer inflation eased for the third month in a row in October after peaking in July on the back of energy-price hikes, but has remained above 30 percent year-on-year, prompting the majority of economists polled to predict it's still too early for the central bank to start loosening monetary policy.
"We expect the (bank) will maintain rates this month, and cut policy rates by one percent in the … meeting next month, and after inflation figures of the current month drop to the high teens following the adjustment of the base effect," said Hany Farahat, a senior economist at CI Capital.
Economists see inflation, which has squeezed many of Egypt's already-struggling vulnerable groups, cooling starting next month.
Egypt's finance minister had said he expected the figure to drop below 15 percent by June 2018 while the CBE sees it at 13 percent by the second half of the coming year.
Signet think tank recommended the bank cut rates by one percent at this week's meeting, said Angus Blair, its chairman of business and economic forecasting.
"With the rate of inflation beginning to fall and with the base rate effect from the devaluation of the Egyptian pound a year ago helping to bring the rate of inflation down, it makes sense for the (bank) to cut interest rates," Blair said.
He pointed to the damage caused by the high rates on private sector activity.
"Cuts in the interest rate will subsequently improve private sector sentiment and investment and help to boost employment, and which will also help to bring down the government's interest payments and meet its budget deficit target," Blair added.
Egypt has over the past year issued two new laws aimed at luring back foreign investors, hoping to boost growth and create jobs, objectives of President Abdel Fattah al-Sisi who is hoping to run for a second term in office in the election next year.