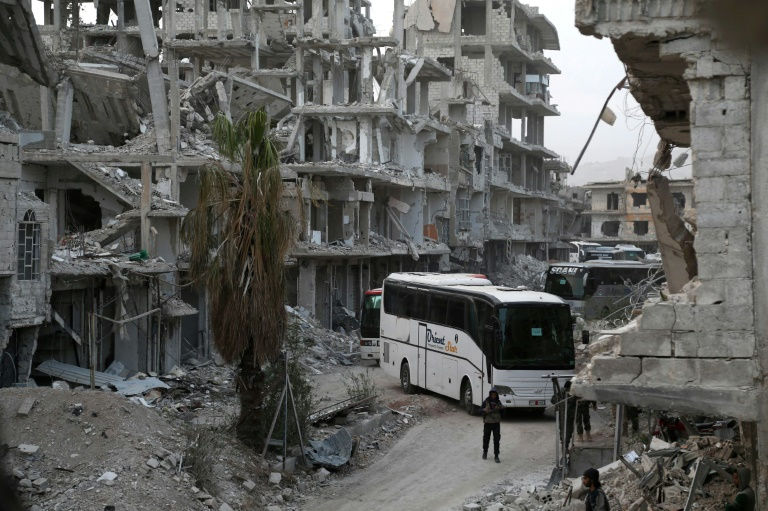 Acting Ambassador for the Egyptian Embassy in Syria Mohamed Tharwat stated that his embassy has carried out intensive communications with Syrian authorities to retrieve seven Egyptian citizens from shelter camps in the Syrian region of Ghouta.
According to state-run newspaper Akhbar Al Youm, Egyptian citizen Ahmed Mahmoud Mousa was released on May 26 from the Adra industrial center. Citizen Tarek Mohammed Amin Abdel Majid was next released with his mother and sister. Majid's Syrian wife, Marwa Marwan Bakir and their children were also taken out of the Najah shelter.
The newspaper added that the Egyptian embassy in Damascus has taken the necessary measures to transport the citizens and return them  home.
Recently, The Wall Street Journal (WSJ), a US-based newspaper, had released a report which stated that the US requested Egypt to send its armed forces to Syria.
The WSJ report cited US officials as saying that that the "Trump administration is seeking to assemble an Arab force to replace the US military contingent in Syria and help stabilize the northeastern part of the country after the defeat of Islamic State".  It could be inferred that Egyptian troops would be included in that Arab forces.
In response, former undersecretary of Egypt's General Intelligence Mohammed Rashad told Egypt Independent that Egypt would decline any invitation.
"The Egyptian Armed Forces are not mercenaries and cannot be leased or ordered by foreign states to deploy forces in a certain area. This is unacceptable and no one should dare to direct or give instructions to Egypt's army," Rashad explained.
Rashad told Egypt Independent that Egypt is not interested to militarily intervene in Syria, adding that the Sisi regime has adopted a neutral stance towards the conflict.