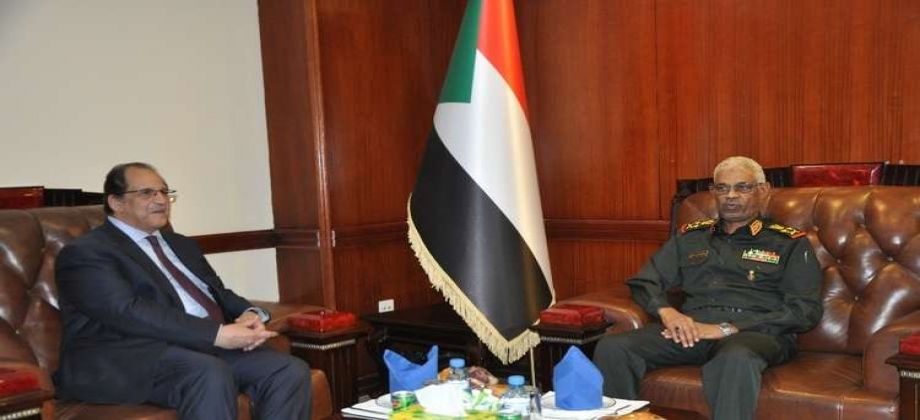 Sudanese President Omar al-Bashir received on Saturday acting head of Egypt's General Intelligence Service (GIS) Abbas Kamal on an official visit to discuss bilateral security cooperation between the two countries.
According to Sudan's official news agency SUNA, the meeting between al-Bashir and Abbas took place in the Sudanese capital Khartoum where Abbas was accompanied by an Egyptian delegation.
The meeting took place in the presence of head of the Sudanese Intelligence Service Salah Abdullah Mohamed and other high-ranking Sudanese officials who discussed current challenges in the region that may affect relations between the two countries.
The acting head of GIS also met with Sudanese Defense Minister Awad Mohamed who described his country's relationship with Egypt as "strategic and important," stressing the necessity of preserving the communication between the two security apparatuses.
"Egyptian national security represents the security of the Arab nation [and] it is a duty to protect it, Sudanese Defense Minister Awad Mohamed said, adding, "Egypt should play its role to protect the national security of the Arab nation".
Meanwhile, Kamal asserted Egypt's sincere willingness to fully restore relations between the two countries, amid numerous challenges that have strained cooperation between them.
Moreover, the GIS acting hed also met with Sudanese Foreign Minister Ahmed Ghandour to discuss ways to settle ongoing issues of contention.
The Egyptian delegation's visit to Sudan comes as part of the efforts by the so-called the Quartet Committee, which was formed after a meeting was held between Egypt's and Sudan's presidents on the sidelines of the recent African Summit held in the Ethiopian capital of Addis Ababa.
The tripartite negotiations between Egypt, Ethiopia and Sudan on the assessment of the impacts of the Grand Ethiopian Renaissance Dam (GERD) have been severely affected by the failure of Sudan and Ethiopia to agree on the opening report of the Technical Office assigned to submit studies on the impact of the dam on the downstream states (Sudan and Egypt). This pushed Egypt to request the World Bank's interference into negotiations, something that was rejected by Sudan and Ethiopia.
The Sudanese ambassador to Egypt Abdel Mahmoud Abdel Halim returned to Egypt on March 6 to resume his duties, nearly two months after he was recalled for "consultations" by Sudan.
Abdel Halim left Cairo on January 5 after the Sudanese Foreign Ministry recalled him following news reports in Ethiopia claiming that Egypt was seeking to exclude Sudan from the tripartite negotiations over the impacts of the GERD, which is currently under construction.
Another source of tensions between Egypt and Sudan has been the dispute over the Halayeb and Shalateen region. Sudan accuses Egypt of occupying the territory, while Egypt says it is rightfully under its sovereignty.