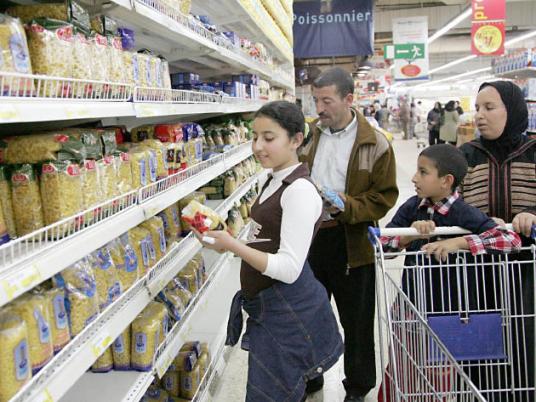 Egypt's government announced that the Federation of Egyptian Chambers of Commerce (FEDCOC) is committed to price stability in accordance with the contracts concluded before the increase in the US dollar exchange rate.
The state assured that it will spare no effort to take deterrent measures to stop unjustified price hikes.
Meanwhile the Ministry of Supply and Internal Trade continues its campaigns on the markets to confront the monopoly of goods and the greed of merchants.
The Ministries of Trade and Industry, and Supply and Internal Trade, agreed with the FEDCOC on the necessity of adhering to prior contracts in accordance with prices in force before increasing the US dollar exchange rate and the economic repercussions that preceded it worldwide.
The two parties also agreed to commit to maintaining an abundant supply of goods and products and price stability, and that the FEDCOC will study a contribution of 2.5 percent of the cash reserve to providing Ramadan commodities, in coordination with the governors.
Minister of Trade and Industry Nevine Gamea held a meeting with heads of 27 chambers of commerce and representatives of the Federation of Egyptian Industries (FEI).
She said that the FEDCOC is a major partner for the government in controlling prices and providing the local market's needs of all commodities.
Minister of Supply and Internal Trade Ali al-Meselhy stressed that the government will confront any unjustified price increase on engineering products that have been contracted between the merchant and the consumer as long as the goods are available before the hikes in the US dollar exchange rate.
He added that the manufacturers and importers of engineering goods need to abide by the approved prices.