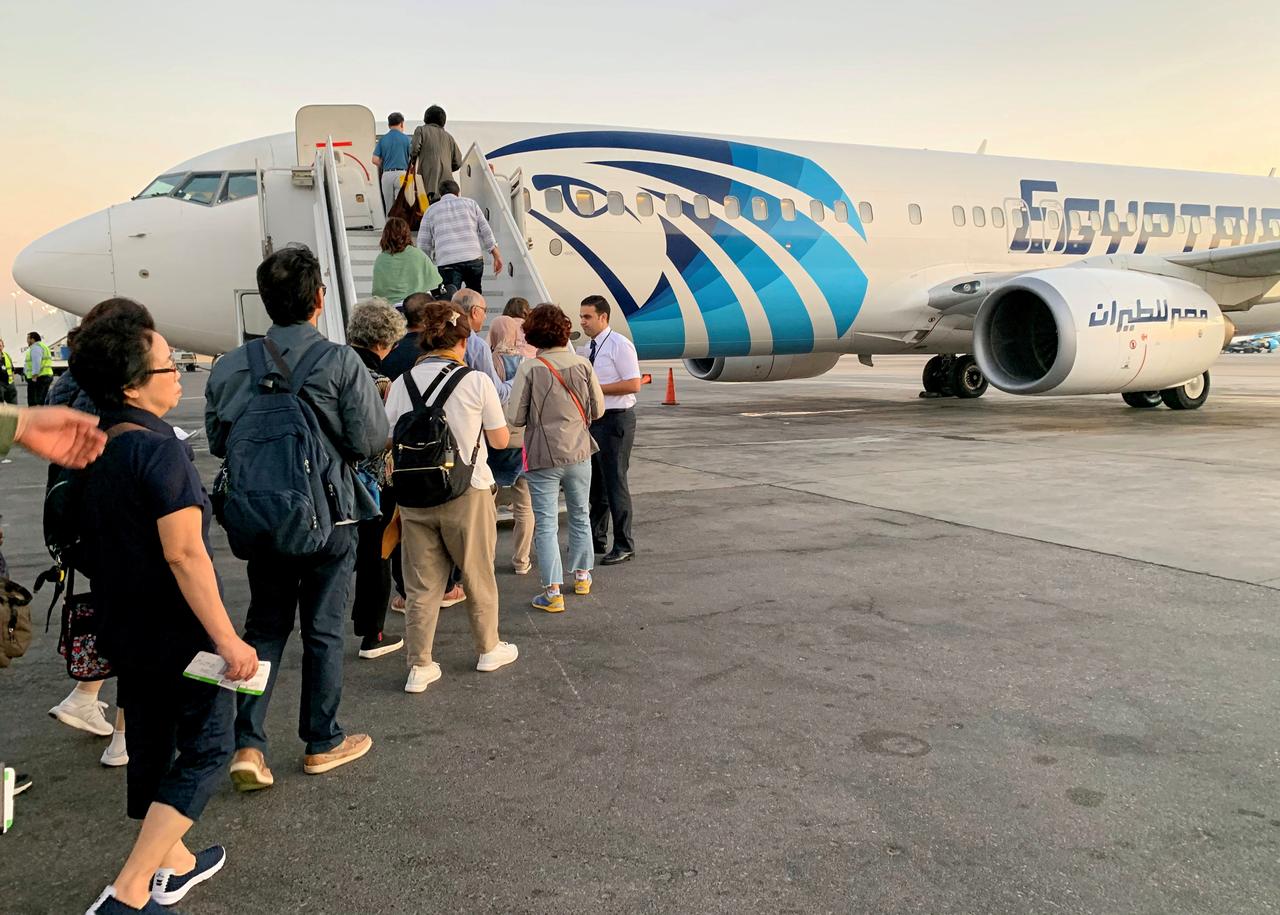 Sources from the Ministry of Civil Aviation said that the ministry will organize two exceptional flights on May 1 and May 3 to return Egyptians stranded in Washington, in accordance with President Abdel Fattah al-Sisi's directives.
The first and second flights will return to Marsa Alam International Airport on May 3 and 5, respectively.
Starting April 21 until May 5, the ministry has organized 22 exceptional flights in cooperation with the ministries of immigration, foreign affairs and tourism to return Egyptians left stranded abroad amid the coronavirus outbreak and worldwide flight bans.
The Undersecretary of Ministry of Health in Red Sea governorate Tamer Mereay was informed that the maritime transport sector will organize sea voyages to retrieve Egyptians from Saudi Arabia's Daba.
And Manpower Ministry Mohamed Safaan received a report from the Egyptian labor adviser at Saudia Arabia's Riyadh regarding the state of Egyptian expatriates there.
Jordan's Labor Advisor Talaat al-Said confirmed that only two Egyptian expatriates have the coronavirus, with the country having 444 cases and seven deaths.
Egyptian expatriates wishing to return must sign an avowal stating that upon arrival back to Egypt they will be quarantined in a place determined by the Health Ministry for 14 days, Cabinet Spokesperson Nader Saad said.
Anyone refusing to sign the avowal will be barred from boarding a flight back to Egypt, he stressed.
Egyptian State Minister for Information Osama Haikal said on April 13 that the government has created a set of criteria for returning Egyptian citizens stranded abroad due to the coronavirus pandemic.
In a phone call with the television program "al-Qahira al-Aan" (Cairo Now) presented by Lamees al-Hadidy, Haikal said that there are several conditions which are applied to those stranded abroad.
Travelers the government considers stranded include those who temporarily traveled to another country, whether for a visit, tourism or a medical procedure.
Those who traveled to participate in a conference or a business venture are also included, as are students stuck abroad after the cessation of their educational programs due to the coronavirus pandemic.
Edited translation from Al-Masry Al-Youm