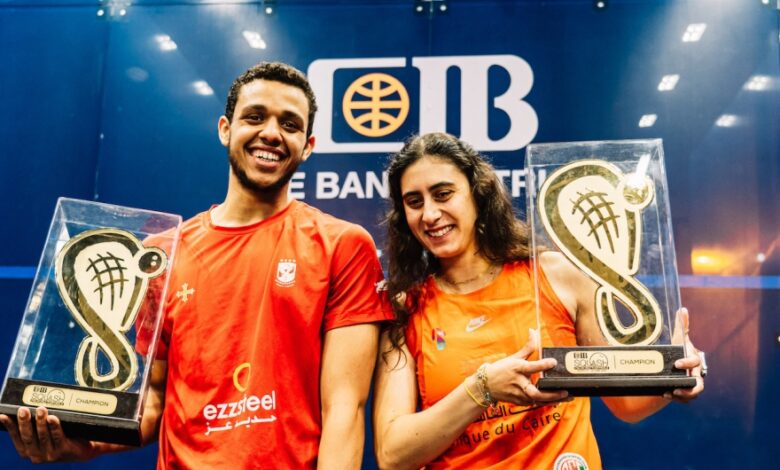 The Egyptian star, Nour el-Sherbini, won a forth PSA World Tour Finals champions title, equaling the achievement of the Malaysian Nicol David and the English Laura Massaro.
World champion Sherbini won the final of the squash season against her compatriot Nouran Gohar, ranked first in the world, by defeating her 3-0 in the final match that took place between them on Sunday.
How does she do it!? 😲@noursherbini comes up with an elite performance to win 𝙖𝙣𝙤𝙩𝙝𝙚𝙧 major title 🏆

The Warrior Princess is the CIB PSA World Tour Finals champion 👏#WorldTourFinals pic.twitter.com/gzrvneOhgq

— PSA World Tour (@PSAWorldTour) June 26, 2022
Sherbini, ranked second in the world, won the second championship this season against Nouran Gohar, after the Women's World Championship, in May.
The 26-year-old Egyptian star won the two world titles, and the PSA world tour finals for the season (2021-2022).
"I'm really happy with my performance, I think this was my best performance of the whole season, so I'm glad I'm ending on a win," said Sherbini.
"I've been struggling the whole season, but it's a credit to all the other players who have been playing really well. I've been trying to push every match and I'm glad that I stopped in the middle of the season, it helped me a lot to regroup. I'm really happy with the last three tournaments I played and now I can rest and come back stronger.
"She [Nouran Gohar] took the No.1 spot from me and has been winning all the Platinum events, so that shows how on form she has been. It's always challenging and tough, she didn't lose a game all tournament. I'm happy with the rivalry and the challenge we have and I'm looking forward to the challenge next season," Sherbini added.
World No.4 Mostafa Asal has retained the men's title following a 13-11, 11-8, 11-7 victory over New Zealand's Coll in 76 minutes, ensuring he has now captured the eighth PSA title of his burgeoning career.
The tournament was held in Egypt, 6th of October City, and the total prizes of the tournament amounted to US$ 400,000, for the men's and women's competitions.