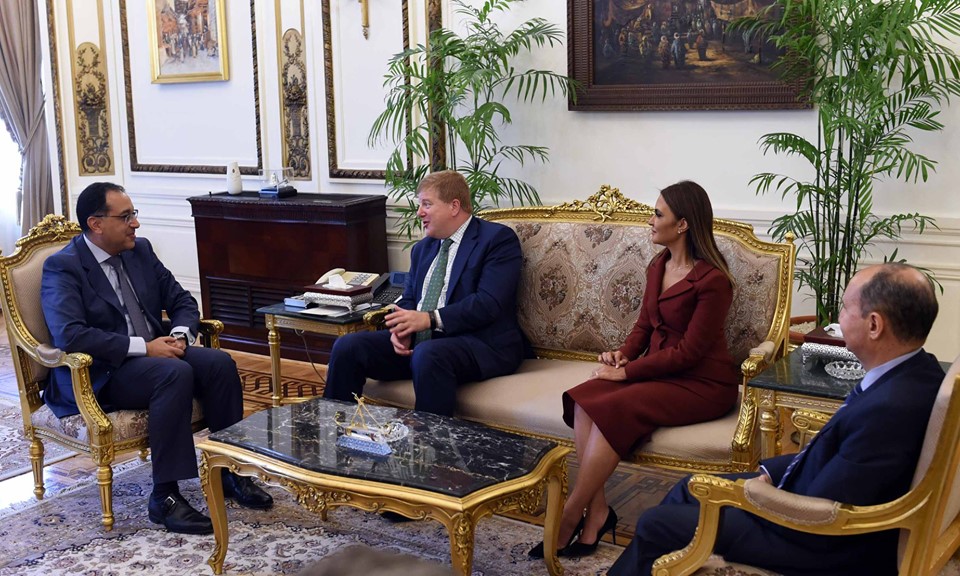 Egyptian Prime Minister Mostafa Madbouly met on Tuesday with the executive vice president and head of International Affairs at the US Chamber of Commerce Myron Brilliant, discussing increased cooperation and more.
Spokesman for the Egyptian cabinet Nader Saad said that Brilliant's visit to Egypt comes as part of efforts by the US Chamber of Commerce to promote economic and trade relations with Egypt, and formulate new areas of cooperation in line with global developments.
Saad pointed out that this year marks the 40th anniversary of the establishment of the US-Egypt Business Council, and that Chamber officials are seeking to utilize the momentum related to this occasion.
Brilliant started the meeting by congratulating Madbouly and the Egyptian government on the successes achieved in Egypt over the past period.
He said that Egypt has become the focus of American companies seeking to strengthen its presence in the Middle East especially in light of what the economic reform program resulted in, through creating an environment conductive to business and investment.
Brilliant added that there are several areas in which cooperation could be strengthened next, such as the energy field in light of Egypt's potential to become an energy hub within the Middle East, the health field by supporting noncommunicable disease treatment initiatives, and digital transformation.
Another area in which cooperation could be strengthened is cooperation with Egypt in Africa as an ideal gateway for American companies to enter the African market.
Madbouly welcomed the US Chamber of Commerce's enthusiasm to promote economic and trade relations with Egypt, praising the strategic partnership relations between Egypt and the United States and the desire of the two countries to harness these relations in serving the region's issues.
The Prime Minister also further stressed the government's keenness to support efforts aimed at enhancing the private sector's involvement in the two countries in further economic and trade activities, especially in the areas mentioned by Brilliant.
Madbouly directed the concerned ministers to put an action plan to implement specific and rapid cooperation projects proposed by the US Chamber of Commerce, in order to serve as pilot projects opening further areas of cooperation between Egypt and the United States.
Minister of Investment and International Cooperation Sahar Nasr and Minister of Trade and Industry Amr Nassar attended the meeting between Madbouly and Brilliant.
Edited translation from Al-Masry Al-Youm