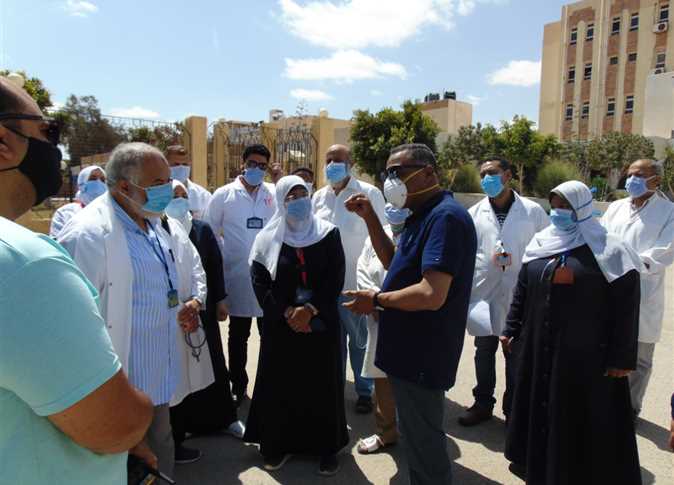 Egypt's Chamber of Health Care Providers on Thursday called on the Ministry of Health to review the price limits that it set for coronavirus treatment in private sector hospitals.
The chamber added it does not object to the establishment of price regulations on the services provided in hospitals, provided that those regulations take into account the real cost of services.
The chamber's board held an urgent meeting on Wednesday to discuss complaints filed by private hospital owners against the new regulations.
Chamber Spokesperson Ahmed Nazih, in a special statement to Al-Masry Al-Youm, said that the Ministry of Health has not met the needs of private hospitals for coronavirus medications, including hydroxychlorine and other anti-viral drugs that are not available in the market.
He added that private hospitals bear a heavy cost for managing to provide these medications, and that they also provide additional bonuses for medical staff that agree to deal with infected cases.

Nazih pointed out that the ministry has also not yet allowed private sector hospitals to conduct PCR analysis and other coronavirus testing.

The Ministry of Health did not consult the chamber while setting the prices, Nazih said.
Egypt's Health and Population Ministry announced Tuesday new treatment prices for coronavirus patients in private hospitals.
A statement from health ministry outlined that the cost of isolation within the internal department will range from LE1,500 to LE3,000, while the cost of isolation in intensive care with a ventilator ranges from LE7,500 to LE10,000 while intensive care without a ventilator costs around LE5,000 to LE7,000.
These prices are per day, the statement said.
These new prices were implemented on Tuesday, with the ministry warning that any hospitals that do not comply with these prices will be closed.
The ministry had previously received a barrage of complaints regarding expensive treatment prices in non-government hospitals, prices that do not correspond with service costs.
Edited translation from Al-Masry Al-Youm