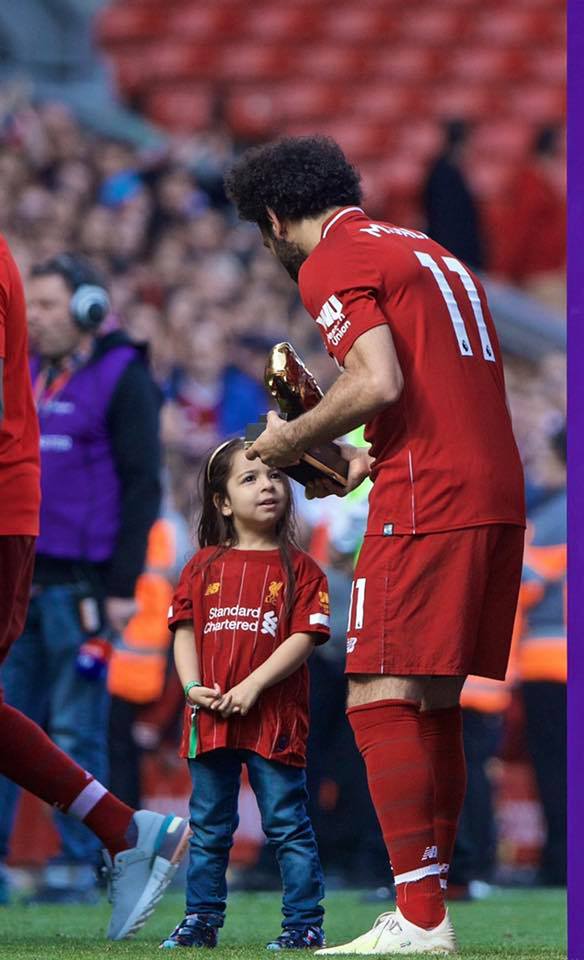 This season's high scorer Mohamed Salah won the Golden Boot award with 22 goals. This is his second win in consecutive seasons.
Liverpool's Salah is the sixth player to win the Golden Boot in back-to-back seasons. He broke records last season with 32 goals to be granted the Golden Boot for the first time.
Salah posted a photo on his social media accounts featuring himself enthusiastically showing his daughter the Golden Boot trophy. He commented, "Yes, I know we have one at home. This is a new one."
After the final season match against the wolves that ended in a 2-0 victory for the Reds, Salah and his daughter Makka cheered among fans. Makka joyfully dribbled the ball in front of the Kop at Anfield until she hit the net, met with uproarious cheers from the crowd in the stadium.
Liverpool's Sadio Mané and Arsenal's Pierre Emerick Aubameyang have won the Golden Boot Award as well, with 22 goals. For the first time since 1998/99, three players from the same seas share the Golden Boot.
Aubameyang expressed happiness to have received the award alongside two other African players whom he admires. He asserted his pride that they represent Africa, BBC reported.
Jimmy Floys, Hasselbaink, Michael Owen and Dwight Yorke in 1998/99 shared the same award, according to Premier League's official website.
"Auba too? Do they have three boots? It is good. They are all my players," Liverpool's manager Klopp said.
Salah scored 32 Premier League goals last season, making it to the finals. The Egyptian star was granted PFA Player of the Year ahead of Manchester City title-winner Kevin De Bruyne.
Star Salah won African Player of the Year for the second year consecutively in 2018. He is the fourth African player to snatch this title back-to-back, following El Hadji Diouf, Samuel Eto'o, and Yaya Touré.
Photo credit: Mohamed Salah's official Facebook account