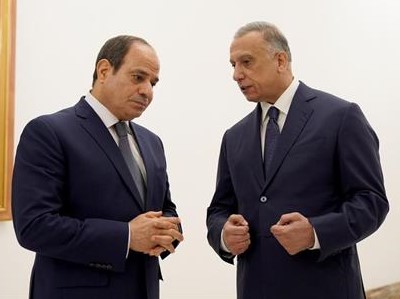 Egypt severely expressed its condemnation of the assassination attempt against the Iraqi Prime Minister Mustafa al-Kadhimi.
Egyptian President Abdel Fattah al-Sisi expressed deep concern over the  assassination attempt in a post on his personal Facebook page, writing: "I followed with great concern the news of the heinous assassination attempt against Iraqi Prime Minister Mustafa al-Kadhimi, at dawn today."
"And while condemning this brutal attempt, I pray to God to preserve him and to bring security and stability for Iraq and its people. I also call on all parties and political forces in Iraq to calm down, renounce violence and unite in order to preserve the stability of the state and achieve the hopes of the brotherly Iraqi people," Sisi said.
Egypt affirmed that it stands against everything that threatens Iraq's security and stability, or undermines the cohesion of its internal front.
It stressed that these terrorist acts will not discourage Iraq from completing the march of national achievements, the latest of which was the holding of parliamentary elections last month.