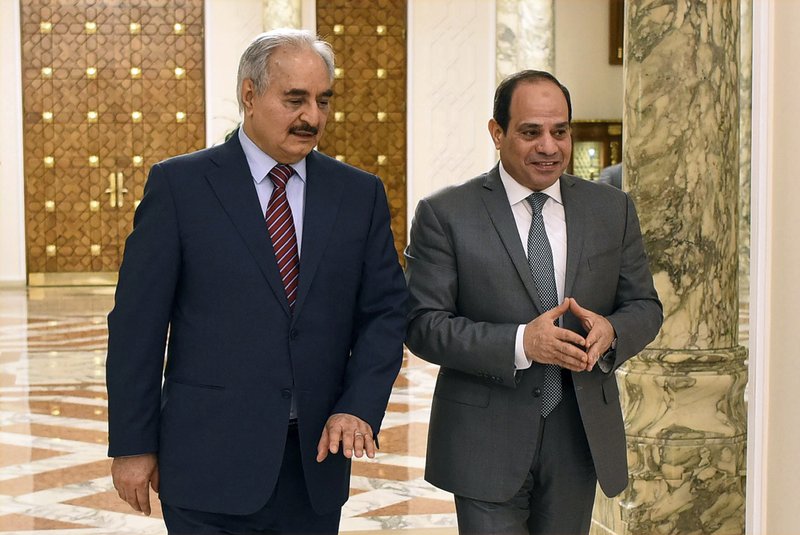 Egyptian President Abdel Fattah al-Sisi on Saturday is set to begin a foreign tour, that includes Germany and Britain, to participate in efforts to resolve the Libyan crisis.
Sisi is due to attend the Berlin conference on Sunday aiming to bring peace to Libya, to which he was invited by German Chancellor Angela Merkel. He will also visit the British capital, London, to participate in the British-African investment summit.
A few days earlier, President Sisi had received a phone call from Merkel to discuss the Libyan situation.
The two leaders agreed that any path to a political solution to end the Libyan crisis must be formulated within a comprehensive framework that addresses all aspects of the issue; such as politics, economy, security and military as well as undermining illegal foreign interventions in Libya.
The Berlin conference is set to witness the participation of several parties involved within the Libyan conflict: the Libyan National Army headed by Field Marshal Khalifa Haftar, the Government of National Accord (GNA) headed by Fayez al-Sarraj, host country Germany, Russian President Vladimir Putin and the US Secretary of State Mark Pompeo.
The permanent members of the UN Security Council, the United Arab Emirates, Turkey, the Congo, Italy and Algeria were also invited to participate in the conference.
Russian Foreign Minister Sergey Lavrov said in a press conference that the final documents of the conference are almost approved and fully respect the decisions of the UN Security Council on Libya.
He did not disclose the content of these texts, however, warning against excessive optimism due to the very tense relations between Haftar and Sarraj.
The Libyan army chief – according to the Kremlin – sent a message to the Russian president, during which he expressed his full support for the Russian initiative to hold talks in Moscow aimed at bringing peace.
He confirmed his readiness to accept Putin's invitation to visit Russia to continue the "dialogue that we started."
Haftar also visited Greece, which was not invited to the Berlin conference, and met with its Foreign Minister Nikos Dendias and its Prime Minister Kyriakos Mitsotakis.
Mitsotakis threatened to use the right of veto within the European Union to reject any peace agreement related to Libya unless it included the cancellation of the illegal agreement between Turkey and the Saraj government, which gives Ankara illegal rights to explore for oil and gas in large areas of the eastern Mediterranean, belonging to Greece and Cyprus.
Libya's GNA demanded that Tunisia and Qatar be invited to the conference, and its foreign ministry sent a letter to the German embassy in Tripoli in which it said that Tunisia is of the utmost importance as it is a border neighbor that has sheltered thousands of Libyan refugees.
The GNA stressed the importance of Qatar's participation because it was and remains the most important supporter of the February 17 revolution, which toppled the regime of former Libyan President Muammar Gaddafi in 2011.
Edited translation from Al-Masry Al-Youm