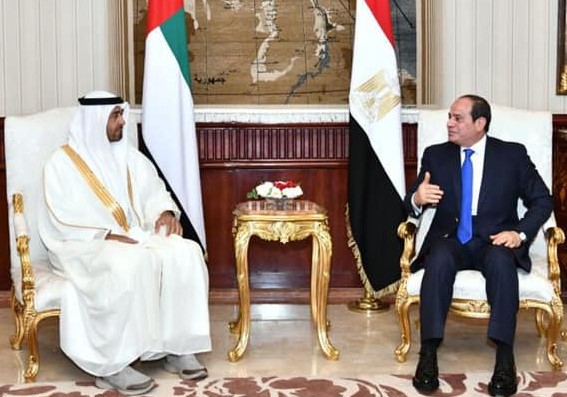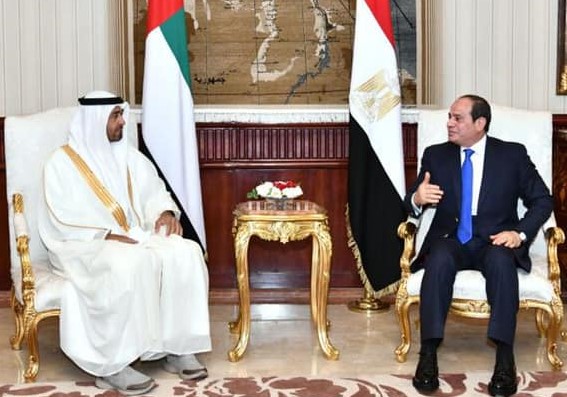 Egyptian President Abdel Fattah al-Sisi on Saturday met with the Crown Prince of Abu Dhabi and Deputy Supreme Commander of the UAE Armed Forces Sheikh Mohamed bin Zayed al-Nahyan, holding talks which touched on a variety of issues.
Sisi welcomed Zayed at Cairo International Airport on Saturday afternoon.
The spokesperson for the Egyptian presidency said that President Sisi expressed Egypt's keenness to continue holding bilateral meetings between senior officials from both countries, to coordinate regarding various developments in the Middle East and enhance the unity of joint Arab action in facing various regional challenges.
Zayed stated that his current visit to Egypt furthers the close relations that bind the two countries, government, people common destiny and future, and comes in support of bilateral cooperation at all levels.
The Emirati Crown Prince praised Egypt's firm role as a basic pillar for security and stability in the region.
He also noted the immense great developments seen by Egyptian-Emirati relations in political, economic, security, and military fields, and the remarkable growth in trade exchange and the volume of investments.
The Crown Prince emphasized a shared eagerness to move forward towards further deepening and developing these relationships.
The talks touched on regional issues such as the Grand Ethiopian Renaissance Dam (GERD), with the two leaders reaching a  mutual understanding on how to resolve these problems.
It was agreed to continue making joint efforts in pursuit of political settlements to the crises facing the region.
These include restoring their national institutions and preserving their capabilities, especially by working to develop a comprehensive vision for the development of the system of joint Arab action, in order to ensure the strengthening of Arab capabilities to face the challenges facing the region.
It was also agreed to maximize the Egyptian-Emirati cooperation and coordination to protect Arab national security, and confront foreign interference in the sovereign affairs of the countries of the region, which led to fueling tensions, conflicts, and terrorist and extremist activities.
President Sisi stressed Egypt's commitment to its firm stance towards Gulf security and rejecting any practices that seek to destabilize it.