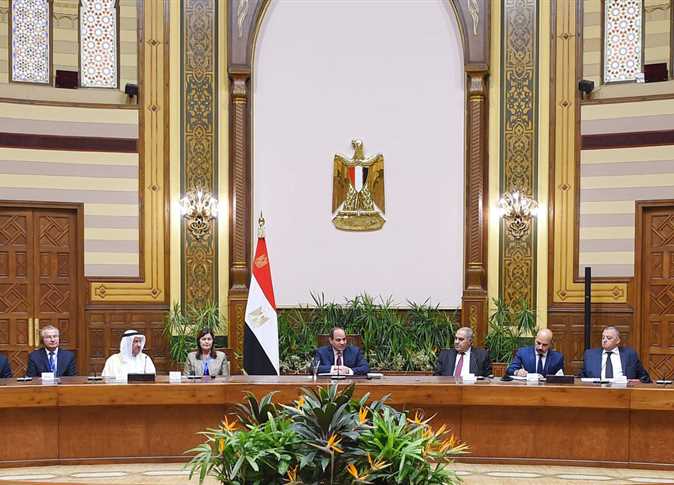 Egyptian President Abdel Fattah al-Sisi welcomed the presidents of the constitutional and supreme courts participating in the international celebration of the 50th anniversary of the Egyptian Supreme Constitutional Court (SCC) on Saturday.
Egypt's Presidential spokesperson Bassam Rady said Sisi started the meeting by congratulating the SCC on the 50th anniversary of the Egyptian constitutional judiciary. The meeting was held in the presence of the President of SCC Saeed Mari Amr and the Vice President SCC Adel Omar Sharif.
Sisi affirmed the pride he and all Egyptians feel towards the SCC and its long-established judicial experience and traditions, which have succeeded in overcoming many of the challenges faced over the past years to uphold the principles of justice, rights and freedom.
He also welcomed attendees of the presidents and representatives of the constitutional and supreme courts from various countries. Sisi stressed his keenness to meet with them as part of efforts to strengthen mutual judicial cooperation.
Sisi stressed the importance of the central role played by the supreme constitutional courts in ensuring the judicial protection of citizens, within the rule of constitutional legitimacy, and in achieving a balance between the rights and freedoms of citizens and the exercising of the functions of public authorities.
Rady said that the SCC's President appreciated Sisi's keenness to enhance public awareness on the important role played by constitutional courts in protecting the capabilities of countries, establishing the foundations of democracy, and promoting development.
He added that the meeting witnessed an open dialogue between Sisi and heads of the constitutional and supreme courts on certain issues, especially in regard to the role these institutions play in maintaining the sovereignty of countries.
During the meeting, Sisi also stressed the importance of public awareness to strengthen the role of law and judicial institutions in order to enable countries to effectively address the challenges that threatening its entity, most notably terrorism and extremist ideology, as well as safeguarding its security and stability.
Edited translation from Al-Masry Al-Youm