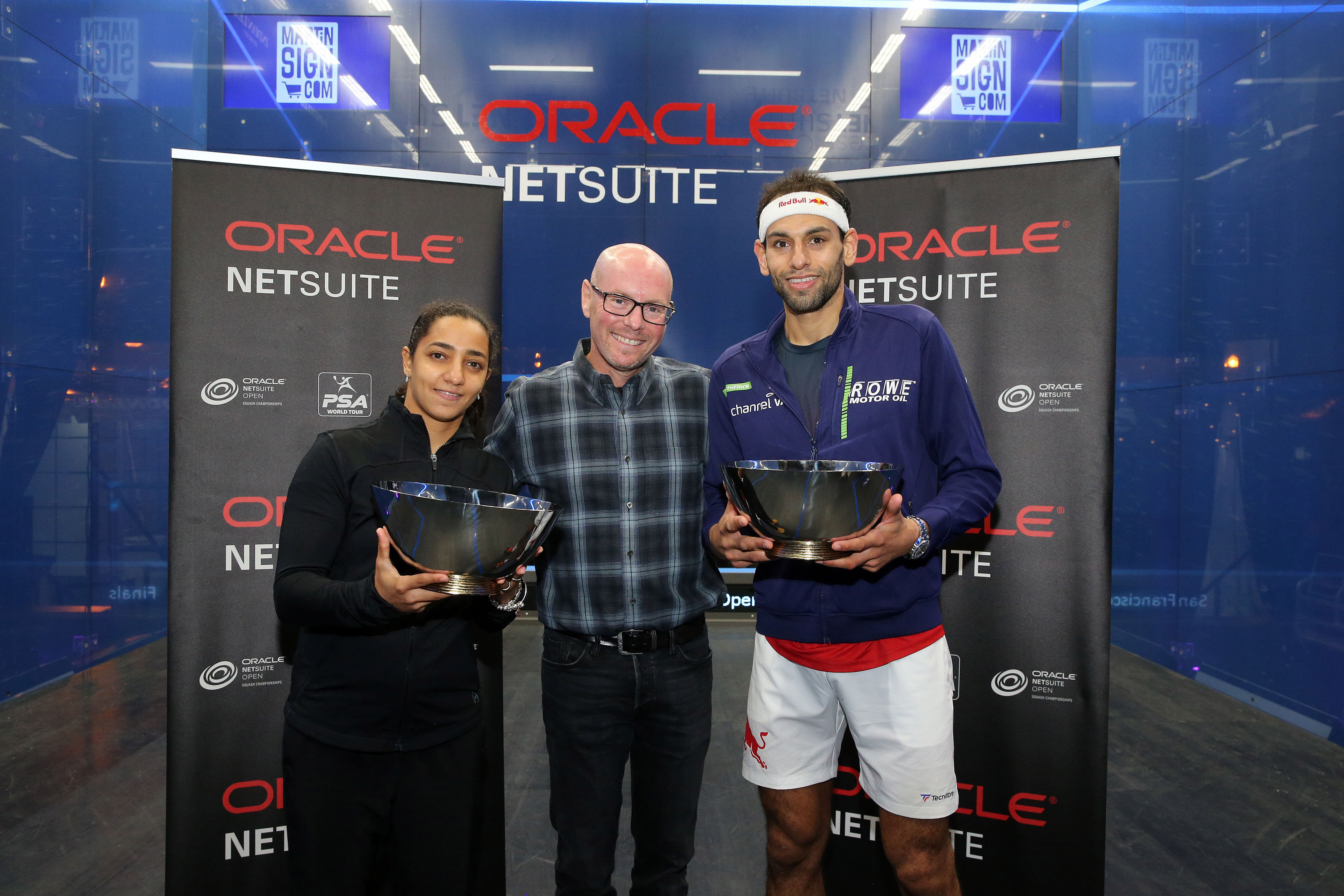 Egyptian squash champions world number one Raneem al-Welily and world number two Mohamed al-Shorbagy claimed the 2019 Oracle NetSuite Open trophies in San Francisco on Monday, according to the championship's official website.
Welily lifted the trophy after defeating her contestant Nour al-Tayeb, with scores of 11-5, 11-5, 11-5 in each game.
"I definitely felt good out there today," Welily said after the victory, the official website reported, "I just was trying to play all the way to the end and not to give any loose shots or give any cheap points. I wanted to try as hard as I could and I think that was what kept me going through to the end."
Winning 408 out of 528 total played matches, Welily records a 70.1 win percentage according to PSA World Tour. The Egyptian champ crowned her 2017-2018 season with a number of outstanding awards, including at the El Gouna International Squash Open, the US open and the China open.
Her latest accomplishments have brought her back to the top spot in the PSA World Rankings.
The player was officially named world champion in Manchester in 2017, her PSA profile mentioned.
Notably, 2015 was Welily's golden year. She achieved distinct recognition, including the PSA Women's Player of the Year, as well as being the first player in more than nine years to oust the prior number one spot holder Nicol David, topping the PSA World Rankings.
Shorbagy meanwhile clinched the title for the second time in his career, beating Tarek Momen by scores 11-5, 13-11, 11-7, 11-7 in each game in the first rally, and then winning 11-4 in the second round which netted him the trophy.
"The way Tarek has been playing, the consistency he has had is unbelievable. I think the way the match went. It was cat-and-mouse. We both kept doing different things and luckily I won the first game so I had the advantage," Shorbagy said, according to the official website.
Shorbagy's win percentage is 81, with 44 matches won out of 54 total matches played, according to The Squash Site.
Currently standing second in the PSA rankings, Shorbagy saw his most recent conquest at the end of 2018 when he secured first place at the Hong Kong Open squash tournament, defeating top player Farag.
He rounded out this season by winning the Grasshopper Cup in Switzerland after defeating the world's number three, Momen. Although Shorbagy's current season is not going as well as 2017-2018, "The Squash Site" insisted that Shorbagy is still performing well enough, having netted four titles among which were three platinum events.