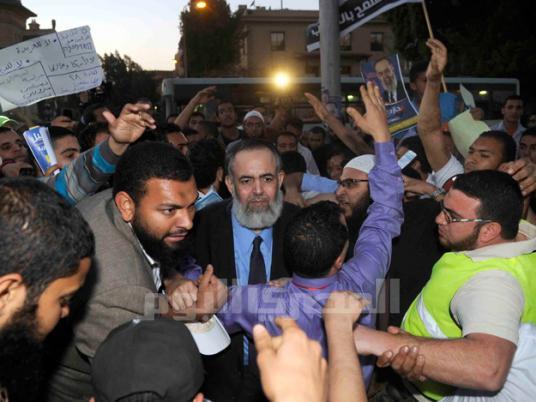 Egypt's Court of Cassation on Saturday turned down an appeal for Hazem Salah Abu Ismail, founder of Salafi Raya Party, against an earlier ruling sentencing him to five years in prison.
The North Cairo Criminal Court sentenced Abu Ismail and 17 others in January to imprisonment for mobbing against Nasr City Court, under the rule of former president Mohamed Morsi in December 2012.
Abu Ismail and five others were sentenced to five years in prison, while the rest were handed a 10-year sentence.
Security investigations have found that five defendants who have been tried in absentia are members of armed terrorist organizations within Syria, including Islamic State.
Prosecution accused the suspects of inciting the besieging of Nasr City Court, using force and violence against prosecution members as well as attempting to prevent them their duties, and forcing them to order the release of suspect Ahmed Mohamed Arafa.
The incidents occurred in December 2012 when security forces arrested Arafa, who founded the Hazemoun campaign and a member of the Ahrar movement. He is currently serving a life sentence. A group of people protested around the court against his detention and demanded his release.
Edited translation from Al-Masry Al-Youm