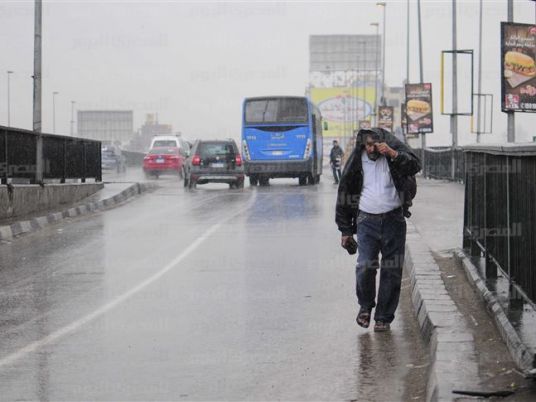 The Undersecretary of the Department of Remote Sensing at the Egyptian Meteorological Authority (EMA) Eman Shaker announced Wednesday that medium rainfall has begun since dawn in some areas of Cairo and will continue throughout the day in Cairo and Giza.
During a phone-in with the Hatha al-Sabah TV channel, Shaker said that Wednesday marks the last day of a recent period of unstable weather.
"The weather conditions will begin to improve, starting Thursday, as the chances of rain will decrease with continued chances for light rain on the northern coasts and northern Lower Egypt" she explained, adding that Cairo may witness very light rainfall.
There are chances of medium and heavy rainfall on the northern and eastern coasts, she added, such as in Damietta, Port Said, al-Arish, Rafah and some areas of the Suez Canal region such as Ismailia and Suez.
Rains may reach north and central Sinai, as well as the eastern governorates of the delta such as Sharqiya, Dakahlia, Beheira and Kafr el-Sheikh.
Shaker added thunderstorms may occur in some of these areas.
The peak of these weather fluctuations will be in the eastern regions of Damietta, Port Said, Arish, Rafah, Ismailia and Suez, possibly reaching the delta governorates.
Though Cairo and Giza are not among the peak areas, cooperation has been made with the governors who have opted to suspend all school services due to flooding in certain places.
Temperatures will remain low, Shaker said, possibly reaching 19 degrees in Cairo.
She noted that winter has not actually begun and this is the last week of the autumn season.