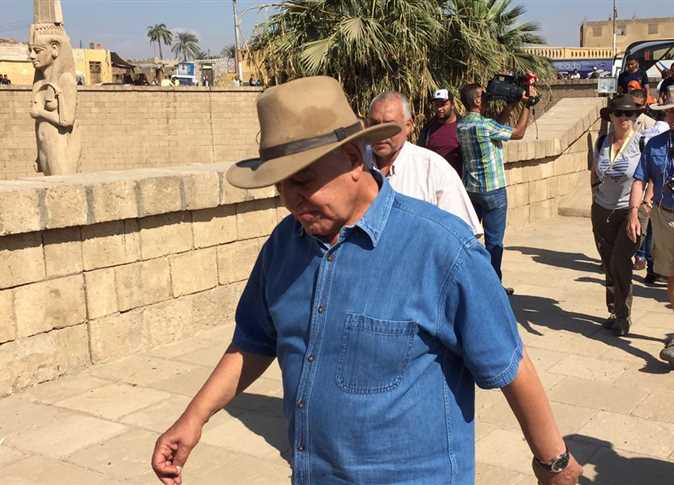 Renowned Egyptian Egyptologist Zahi Hawass announced the unearthing of Egypt's first industrial zone, which dates back to the 18th Dynasty, in addition to 30 industrial workshops, including workshops for the excavation and cleaning of gold and for coloring pottery. The zone was found in the Valley of the Apes, west of Luxor Governorate. Knitting needles for funerary furniture as well as wood and milling were also found.
Hawass revealed during an international press conference held in the Valley of the Apes on Thursday that a new cemetery called cemetery No. 65 was also discovered. Items found at the cemetery included the remains of onions, garlic, doom palm, linen, and animal bones, and a wooden holder that was used to pull the funerary furniture inside the cemetery.
Inside the industrial zone, a huge storage pit, an oven to burn pottery, a water tank, a special ring that belonged to King Amenhotep III, wings of a statue of the god Horus, and a silver ring that belonged to a queen were found.
Excavation in the area started in 2010 and continued into 2011 and then stopped, then resumed in 2017, said Hawass. The first excavation mission in the Valley of the Apes took place in 1799, he said, pointing out that the mission was for Napoleon Bonaparte. That mission had already discovered parts of the newly recovered workshops, he added.
The discovery is the result of several years of excavations, Secretary General of the Supreme Council of Antiquities Mostafa al-Waziry said.
Hawass added that there are many royal tombs that have not yet been unearthed in the Valley of the Apes. The valley hides many secrets, he said.
Edited translation from Al-Masry Al-Youm